Are you still worrying about robot development ?
Complex Joint Parts Design
A 3-5-year R&D cycle
Considerable joint size and performance
Invest millions of dollars in R&D
Supply Chain Management and Cost Control
Compatibility of Driver with Machinery and Controller
Techsoft Robots(Shenzhen) provides you with a high cost-effective integrated robot joint module
Products:RJS,RJS-II,RJU,SHD And Customer Special Customization
Main application industries: automatic assembly production, automatic logistics sorting, unmanned retail, rehabilitation medical and surgical assistance, power inspection, scientific research and teaching, automobile and accessories assembly, biochemical analysis and testing
Distribution of plug-and-pin brakes, which went on sale in early 2018, has sold more than 800 sets.
Why

choose our joint module?

RJS series of robotic joint dies through highly integrated design, make customer selection simpler, faster installation, reduce customer design, selection and assembly costs.
Top 10 Performance of RJS Series Modules
Based on more than 10 years'focus on the production, development and application of high performance servo drivers, RJS series joint modules ensure the stable operation of cooperative robots with high positioning accuracy and high reliability.
More flexible

It can be freely assembled into 3KG, 5KG, 10KG, 15kg, 20KG robots. The number of joint axes can be flexibly matched.

Skillful

Full closed-loop control is realized by using double encoders. The repetitive positioning accuracy of output terminal can reach 0.001.

More lightweight

The reducer is designed with hollow super flat structure, compact structure, smaller size, lighter joint weight and less weight than 2Kg.

Super moments

The continuous output torque is 10~450N.m.

Higher Speed

The rated maximum speed can reach 40 RPM, the maximum rotation speed of the joint can reach 240 degree/s, and the acceleration can reach 10 RPS/S.

More secure

Comprehensive safety protection design such as drive overcurrent, over temperature, over voltage, under voltage, location error, short circuit, I2t and control error.

More convenient

Routine 48 VDC power supply, 24-60 VDC power supply is optional

low power consumption

RJS14 works normally at a minimum of 20W, and the power consumption of 3KG cooperative robot is about 150 W under normal working conditions.

More friendly

EtherCAT, CANopen Communications Optional, Supports Most Mainstream Robot Controllers

Customized

Provide OEM customized service for customers
Specification parameters
Design drawings
Relevant Document Download
Basic performance

Parameter

Units

RJS14

RJS17

RJS20

RJS25

RJS32

RJS40

Allowable torque

Nm

28

54

82

157

333

279

Average torque

Nm

11

39

49

108

216

450

Peak torque

Nm

54

86

147

284

647

1000

Rated speed

rpm

30

30

30

20

20

12.5

Maximum speed

rpm

40

35

35

25

25

15

positioning accuracy

度

0.001

Electrical performance

Rated current

A

5.7

5.8

7

12.2

13.3

28

Peak Current

A

14.25

14.5

17.5

30.5
33.25
56

Rated voltage

V

48

Load power

W

117

146

210

350

419

1000

Communication

--

Ethercat/Canopen

Mechanical properties

Diameter

mm

90

90

100

119

156

184

Height

mm

104

104

114

135

172

207

Length

mm

130

144

144

160

175

221.1

Weight

kg

1.75

2.37

2.92

4.7

7.5

16

Gear ratio

--

101

101

101

101

161

161

Incremental Encoder

P/R

20000

Absolute Encoder

Bit

17/19

Temperature/Humidity

Ambient temperature

--

0 - 50℃

Temperature

--

90% relative humidity(non-condensing)

Environmental requirements

IP classification

--

IP54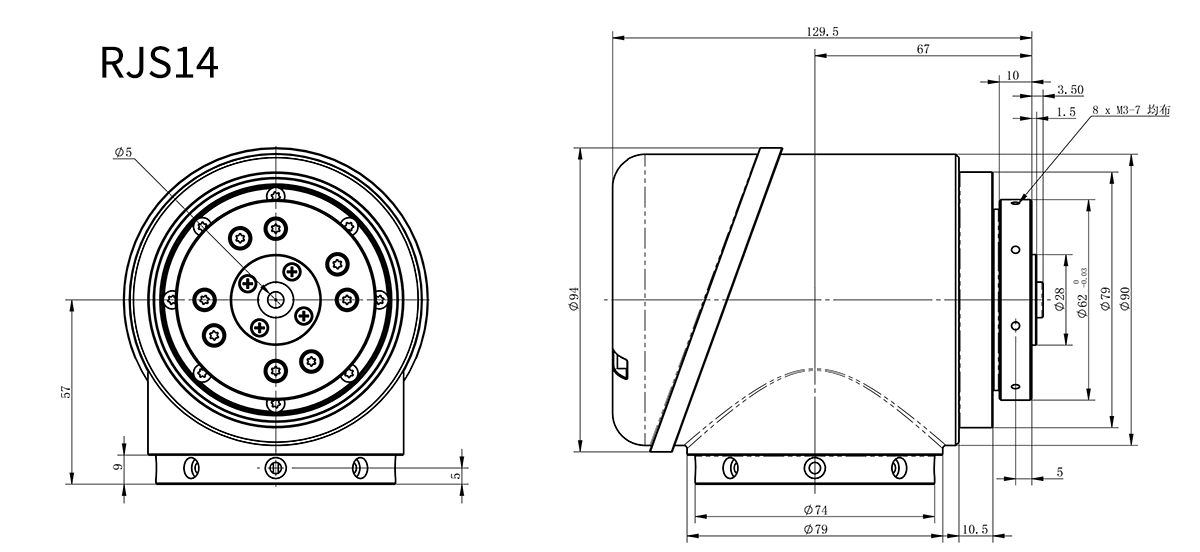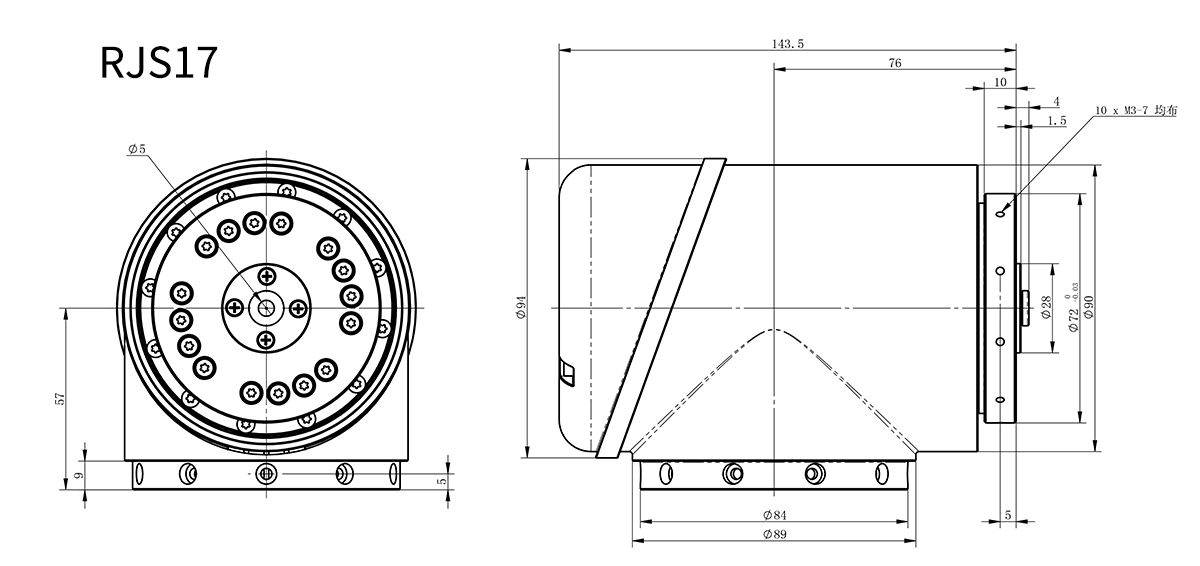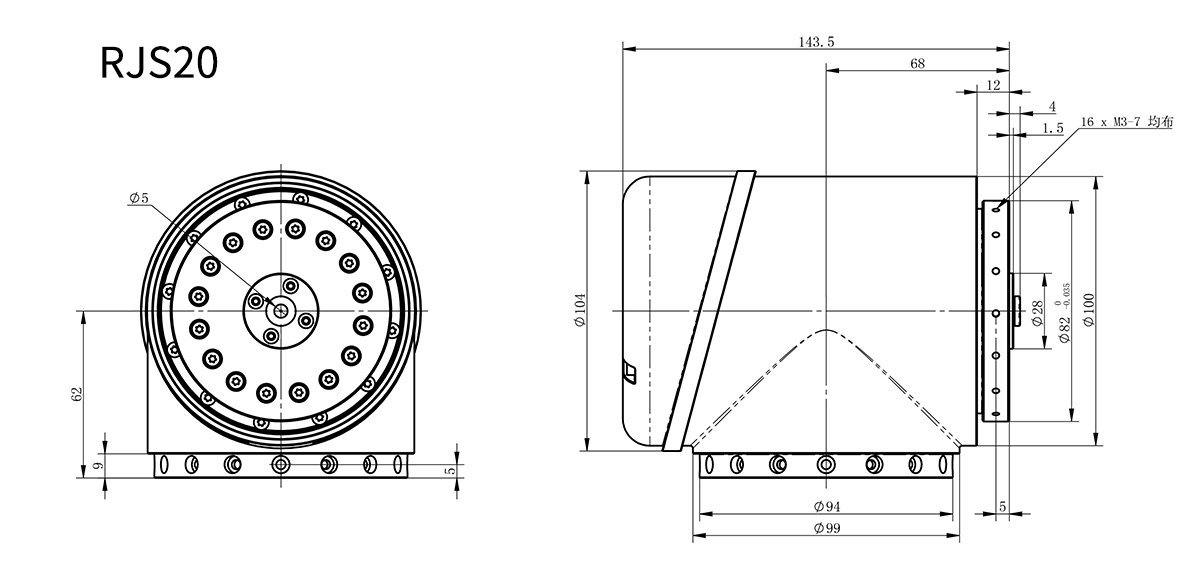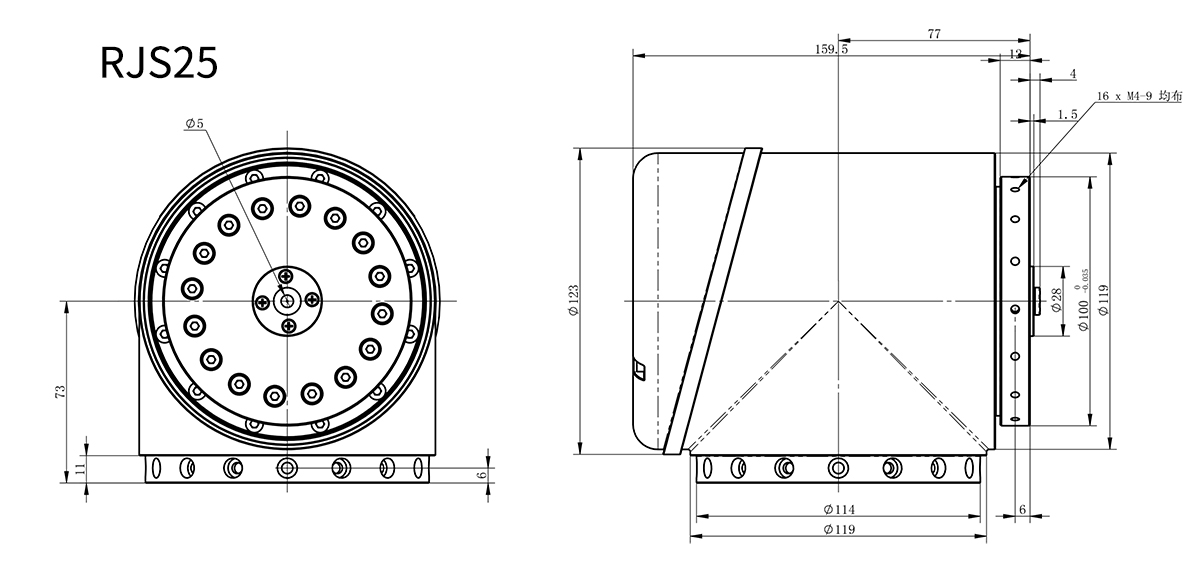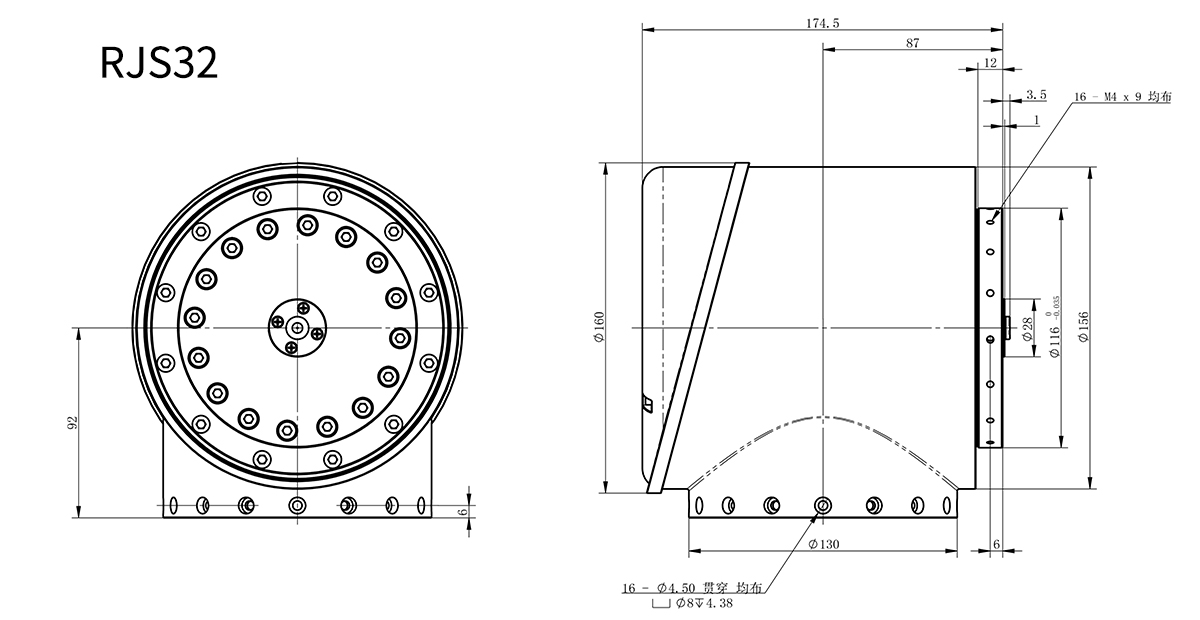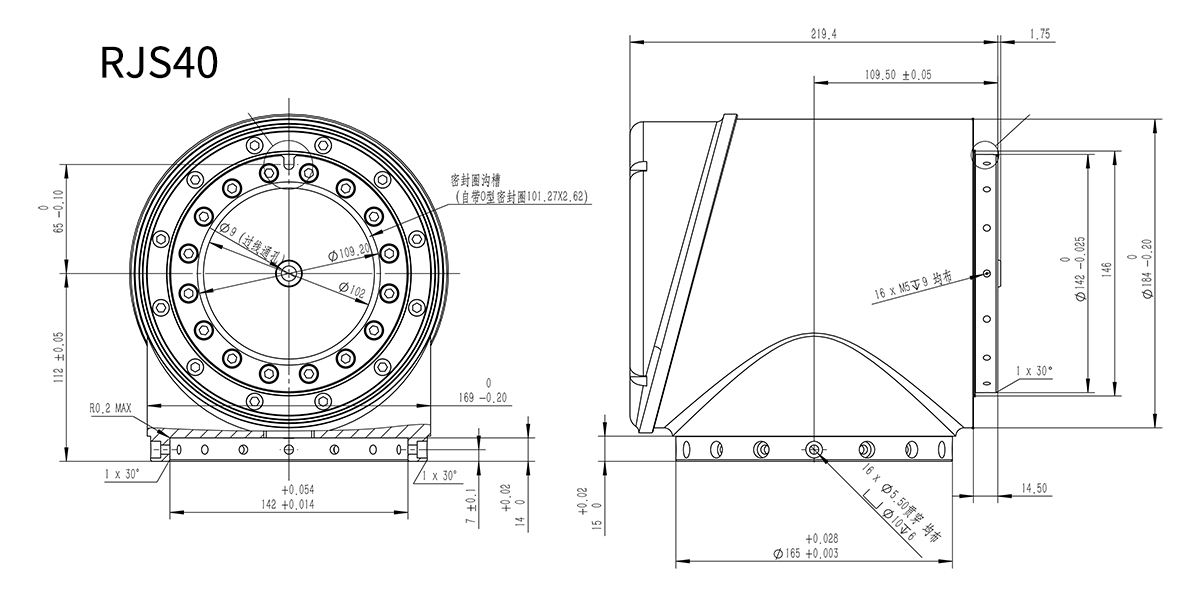 Product manual
2D drawings
3D drawings
Recommendation of related products