TA6 series co-robots
New era of leadership collaboration automation technology
The TA6 series is a 6-degree-of-freedom co-robots independently developed by Techrobots. It has functions such as drag teaching, safety, and anti-collision, and can work directly with people. The self-designed RJS series joint module is light and flexible and runs smoothly and smoothly while meeting the needs of the load. It has strong versatility, collaboration, and openness, and is suitable for logistics assembly, assembly line production, loading, and unloading, AGV, 3C electronics, scientific research, medical and other industries. TA6 series collaborative robots are easy to install (any angle of installation) and versatile. No matter what industry or product you are, they can be well integrated into each production process, improve the productivity of your factory, and better save labor costs.
TA6 series co-robots
Precise and efficient
TA6-R3

Payload 3kg

Working radius 500mm

TA6-R5

Payload 5kg

Working radius 810mm
TA6 series co-robots customization
16.2kg

Minimum weight

3-5kg

Payload

Standard spine 6 degrees of freedom

Multiple degrees of freedom and colors can be customized

Degrees of freedom
Up to 2000mm

Working radius

Up to ±0.1mm

Repeatability
Co-robots create advantages for businesses
Widely user in various fields
Easy to teach and easy to program
TA6 series co-robots has a drag and teach function, which effectively saves the time cost of debugging and learning. The simple and friendly system operation interface is convenient for users to get started and can be easily mastered and used after simple training.
Collaborative security, smooth operation
TA6 series co-robots has a sensitive torque detection function. In the event of a collision, the set torque limit is exceeded, and the robot will stop safely in time to ensure personal safety. TA6 co-robots also supports external safety light barriers, lidar detection, external emergency stop, and SLOW REPEAT to ensure the safety of the user's working environment.
Lightweight and flexible
TA6 series co-robots are compact and light in weight. The smallest robot is only 15KG, which not only effectively ensures the reasonable load capacity of the robot, but also can be quickly installed in any working environment. The integrated joint design of TA6 series co-robots is convenient for repair and maintenance, and users can disassemble and assemble joints in only half an hour.
Smart and easy to install
TA6 series co-robots can usually be completed in less than an hour from unpacking, removing the co-robots, installing the robot, and programming the first simple operation.
Basic parameters
Parameters
Drawings
Download
Type
TA6-R3
TA6-R5
performance

Power consumption
Normal working condition 150w
Normal working condition 250w
Environmenttemperature
0-50°C
0-50°C
Environmental humidity
90%relative humidity(Not condensable)
Cooperation
Adjustablecollision safety function
specification
Payload
3kg
5kg
height
805mm
1082mm
Working radius
500mm
810mm
Degreesof freedom
Six rotatory joints(Degreesof freedom)
Programming

7 inch Touch screen

Teach Pendant programming
Moving
Repeatability
±0.02mm,With payload
±0.02mm,With payload
Axis
Workingrange
Maximum speed
Workingrange

Maximum speed
base
±360°
±180°/s
±360°
±150°/s
shoulder
±180°
±180°/s
±180°
±150°/s
elbow
±180°
±180°/s
±180°
±150°/s
wrist1
±180°
±180°/s
±180°
±180°/s
Wrist2
±180°
±180°/s
±180°
±180°/s
wrist3
±360°
±180°/s
±360°
±180°/s
Typical end-effector speed
1.5m/s
1.5m/s
feature
IP classification
IP54
IP54
ISO

Clean room rating
6
6
Noise
<60dB
<60dB
Angle of installation
any
any
physical characteristic
Floor

space
Ø128mm
Ø172mm
Materials

Aluminum,Steel

Aluminum ,Steel

End-effector connection type
EtherCAT
EtherCAT
Cable length

6m
6m
Weight (with cables)
16.2kg
22.6kg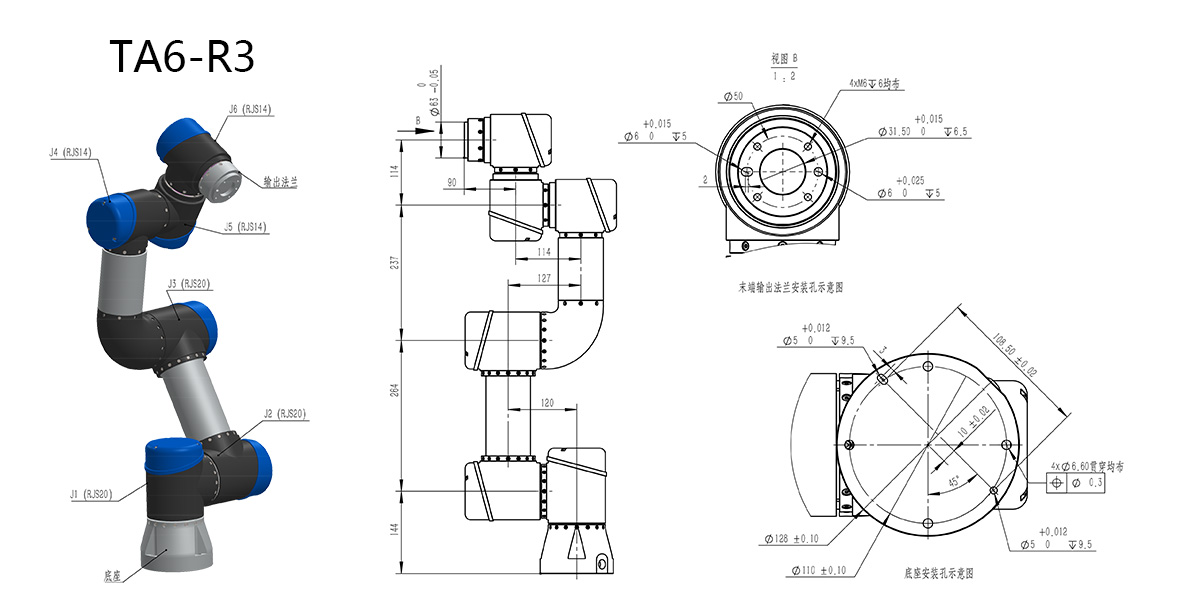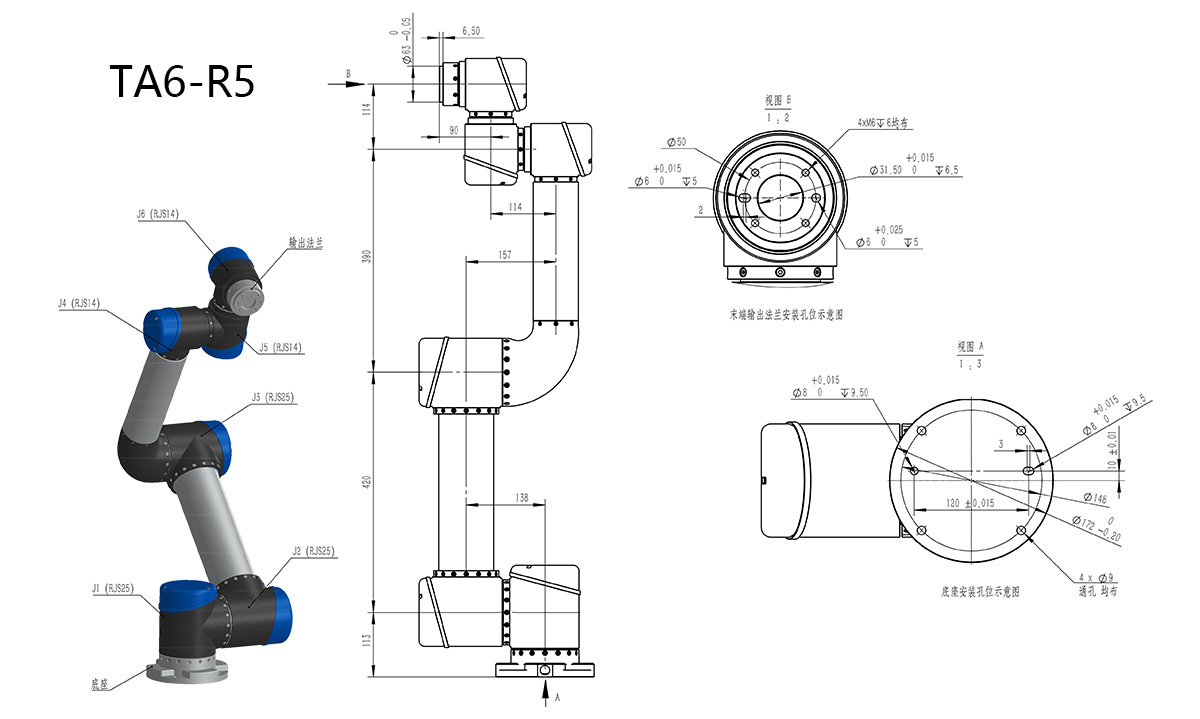 Copyright © 2021 Techsoft robots(Shenzhen) Co., Ltd.
.All Rights Reserved.
粤ICP备09089119号-6