Manufacturing industry has been facing huge cost pressure. In recent years, co-robot industry has been booming, mainly because enterprises can better improve work efficiency and save labor costs after using co-robots. In the sorting, loading and unloading, grinding, assembly, labeling, testing and other processes generally require a large number of robots, and co-robots because of their high flexibility and high cost performance, become the best choice of enterprises.
In the field of co-robotics, Techrobots continues to lead the industry by providing users with product solutions. This year, Techrobots launched a number of new co-robot TB6 series featuring high safety, high reliability and convenient use.
TB6 series co-robots
The TB6 series of co-robots are industrial-grade and can be used in all kinds of demanding work environments. They include five co-robots with different loads: R3, R5, R10, R15, and R20. Tb6-r20 has a maximum load of 20kg and a working radius of 1500mm. Tb6-r3 small desktop co-robot, with a dead weight of 11.5kg, can be used in a narrow workspace with man-machine integration, providing customers with accurate, flexible and safe man-machine collaboration solutions.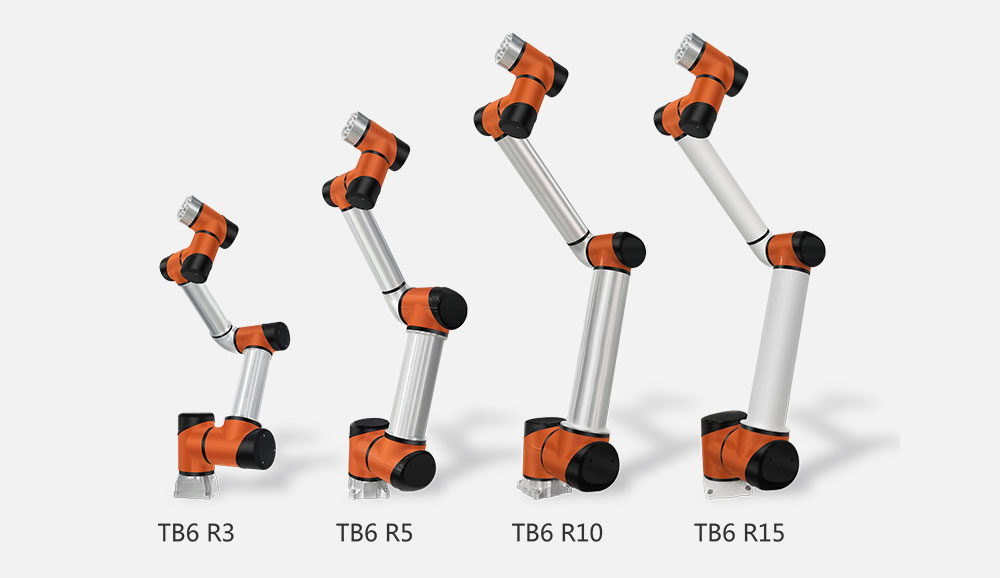 TB6 series manipulator has good motion control performance. The maximum motion speed of TB6-R10 can reach 3000mm/s. In addition to high speed motion, Techrobots manipulator also has good drag teaching and safety collision functions, which enables the operator to control the work of the manipulator more intuitively.
TB6 series co-Robot Features:
Drag to teach safety and collision prevention
● A slight human touch will make the robot stop safely and automatically
● Smooth surface, no bump, no damage when touching
● Collaboration mode indicator light is visually visible
● When the robot moves, there is enough space between the joints to prevent people from clamping their hands during operation
Simple deployment and easy installation
● The robot arm has a minimum weight of 11.5kg and can be quickly installed and deployed by 2 people
● Teaching device operation intuitive, simple and convenient teaching
● Support multiple communication protocols
● It can be seamlessly connected with force sensing and vision sensors
High accuracy and reliability of control
● Techrobots has provided more than 20 robotics companies with customized arm solutions and strong technical support and after-sales service.
With the advent of new infrastructure, how enterprises can realize intelligent and intelligent manufacturing and production transformation has become the trend of The Times, and co-robots with man-machine cooperation advantages will become the trend of future factories. Techrobots will continue to provide more complete, safe and efficient robot solutions for enterprises to achieve rapid transformation.