With the progress of science and technology, the robot market is developing vigorously in the era of industry 4.0. In order to cope with the changing market demand, there are more and more robot brands in the market. Among them, with the advantages of light and flexible, simple and fast installation, and suitable for complex and changeable working environment, co-robot has gradually replaced the traditional industrial robot. The arrival of co-robots, and simple deployment operations, has greatly improved production line efficiency.
Now, led by fanuc, kuka, yaskawa electric and ABB, the four robot families in the world, together with the representatives of domestic robot leaders such as shinsong and
Techrobots
, have set off the development trend of co-robots. It can be said that the layout of domestic and foreign robot brands in man-machine cooperation, for the manufacturing industry transformation to add a new power!
Fanuc - CR - 35 ia
With a load of 35kg, fanuc's cr-35ia co-robot is the most loaded co-robot in the world. The robot does not require a security fence, and humans and robots can share an area for operations. The cr-35ia has been widely used in the automotive industry, packaging and other industries. The arrival of the robot enables workers to get rid of the heavy but simple work, so they can focus on the work requiring skills, and improve the work efficiency of the system on the premise of ensuring artificial safety.
Library card - LBRiiwa
The kuka LBR iiwa is the first sensitive robot to be mass-produced and capable of man-machine cooperation. The LBR iiwa is the first to achieve direct cooperation between humans and robots for tasks requiring high sensitivity. Therefore, the formation of new work areas can improve economic efficiency and achieve maximum efficiency. Currently, the LBR iiwa, a cooperative and sensitive robot, is available in two models with a load capacity of 7 kg and 14 kg respectively.
Yaskawa electric - motoman-hc10
Yaskawa motor MotoMINI is a world-class industrial small 6-axis robot with three characteristics: small and light, high speed and high precision. It is good at changing the position, to achieve a high degree of freedom such as man-machine collaborative sharing operations, can be used for the assembly and operation of small parts, as well as electronic and electrical parts of the catering and insertion. Meanwhile, MotoMINIMotoMINI can carry a weight of 500g, a maximum stretching distance of 350mm and a weight of about 7kg. The robot makes it possible for small portable robots to produce and process small products.
ABB - YUMI
ABB co-robot YUMI series, including two arms, one arm two models. Among them, YuMi's two-arm robot, with vision and touch, has dexterous arms and is wrapped in soft materials. And the use of intuitive, easy-to-use guided programming, which means that workers can quickly and easily robot movement or location for teaching, thus greatly simplifying robot programming. Taking advantage of the two-armed robots, the latest addition to the YuMi family, the IRB 14050 YuMi one-armed robot, is ABB's most flexible and compact co-robot yet, easily integrated into a variety of production environments.
Bosch - APAS,
Bosch co-robot APAS, the first certified assistant system of co-robots, can assist humans without any additional protection. The protective leather coat of the robot is a touch detection device, which will automatically slow down when a person is near. After the person leaves the area, the robot moves back to its normal speed.
Techrobots TB6 series co-robot
TB6 series co-robot
are light co-robot with 6 degrees of freedom independently developed by Techrobots. They have the functions of dragging, teaching, safety and collision prevention, and can work with people directly.
RJSII series joint modules
are designed and developed independently, which are not only light and flexible, smooth and flexible, but also meet the demand of load. High level of protection, can be applicable to more demanding working environment, not only has strong universality, collaboration and openness, widely used in logistics assembly, assembly line production, loading and unloading, AGV, 3C electronics, scientific research, medical, military, aerospace and other industries. The installation is simple (installation way is arbitrary Angle) and the use is diversified, enhances the product quality and the production efficiency, and saves the labor cost better.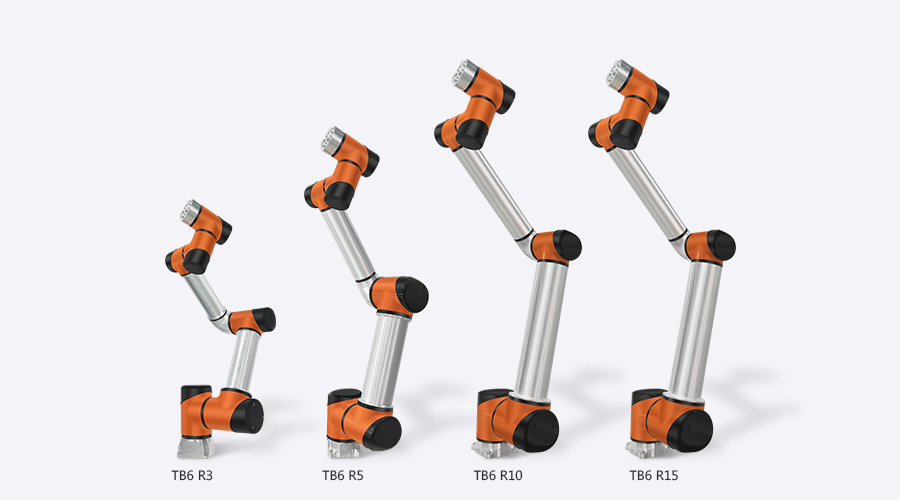 Siasun - GCR20-1100
Xinsong gcr20-1100 co-robot has the advantages of cooperative security, large load, easy operation, low power consumption and rapid deployment. With a payload of 20kg, it can adapt to a wider range of applications. At the same time, gcr20-1100 also has collision detection function, perfect safety classification design, can work with people, can be quickly deployed, switch, flexible to meet a variety of production needs. In addition, xinsong also has a rich co-robot series product line, the main co-robot products are SCR5, SCR3, HCR20, HSCR5, DSCR3, DSCR5.
Conclusion: traditional industrial robots need safety guardrails to ensure the personal safety of robot operators, and the emergence of co-robot, on the premise of ensuring the safety of man-machine cooperation, has changed the production mode of modern factories, improved the production efficiency of enterprises and reduced personnel costs. In the near future, man-machine collaboration will become the mainstream of enterprise production, and further accelerate the process of enterprise automation production.