SHD rotary actuator
Main features
The strong output of lightweight design: Professional hollow ultra-flat design, realizing strong output of high power density in the lightweight volume
External Drive Renewed: Intelligent Actuator adopts External Self-developed Driver, which can play motor performance more efficiently and is a better choice for the intelligent flexible actuator.
Absolute encoder: high precision absolute encoder, precise control of motion trajectory, multi-loop absolute encoder resolution standard 16 single-loop and 16 multi-loop
Intelligent actuator SHD is mainly divided into SHD14B、SHD17B、SHD20B and more models, please look forward to it.

Product Features
Small size, large output torque, flexible opening, good heat dissipation and accuracy
modular design

Adopt hollow design layout, reasonable and more compact structure, smaller machine, light weight of actuator

Optional brake

The actuator is customized to install the brake according to actual needs, allowing more freedom in robot development

High-precision encoder

The encoder's accurate feedback on the movement guarantees more accurate positioning of the robot and better stability of the trajectory.

low cost

Core independent technology research and development, reducing the research and development cost of actuators in the process of robot development

Wide range of applications

Mainly for scientific research and teaching, medical equipment
Seiko quality, high integration
Compact design and integrated actuators to meet the needs of high torque and high power density
Quickly set up your robot,Choose from a variety of sizes
SHD series intelligent actuators are mainly divided into: SHD-14, SHD-17, SHD-20 and more models...
SHD14B

Diameter:70mm
Weight:1.07kg
Average torque:11N·m
Rated speed:29.7RPM

SHD17B

Diameter:80mm
Weight:1.458kg
Average torque:39N·m
Rated speed:19.8RPM

SHD20B

Diameter:90mm
Weight:2.2kg
Average torque:49N·m
Rated speed:29RPM
SHD actuator provides more models to choose from, welcome new and old customers to come to consult and order!
Basic parameters
Parameters
Drawings
Download
Parameter

Units
SHD14B
(Hollow)
SHD17B
(Hollow)
SHD20B
SHD14B2
Basic performance
Average torque
Nm
11
39
49
11
Peak torque
Nm
54
110
147
54
Rated speed
rpm
29.7
19.8
29
29.7
Maximum speed
rpm
42.5
28.7
35
42.5
positioning accuracy
Degree
0.001
Electrical performance
Rated current
A
4.2
5.7
6
4.2
Peak Current
A
10.5
14.25
15
10.5

Rated voltage
V
48
Load power
W
118
148
200
118
Communication

--
Ethercat/Canopen
Mechanical properties
Diameter
mm
70
80
90
70
Height
mm
75
82.1
88
93
Weight
kg
1.07
1.458
2.2
1.5
Gear ratio
--
101
101
101
101
brake
--
None
Yes
Absolute Encoder
Bit
16 bit Singleturn /16 bitMultiturn absolute encoder (Optional 20000P/R Incremental Encoder)
Temperature/Humidity
Ambient temperature

--
0 - 50℃
Temperature

--
90%relative humidity

(

non-condensing

)

Environmental requirements
IP classification

--
IP54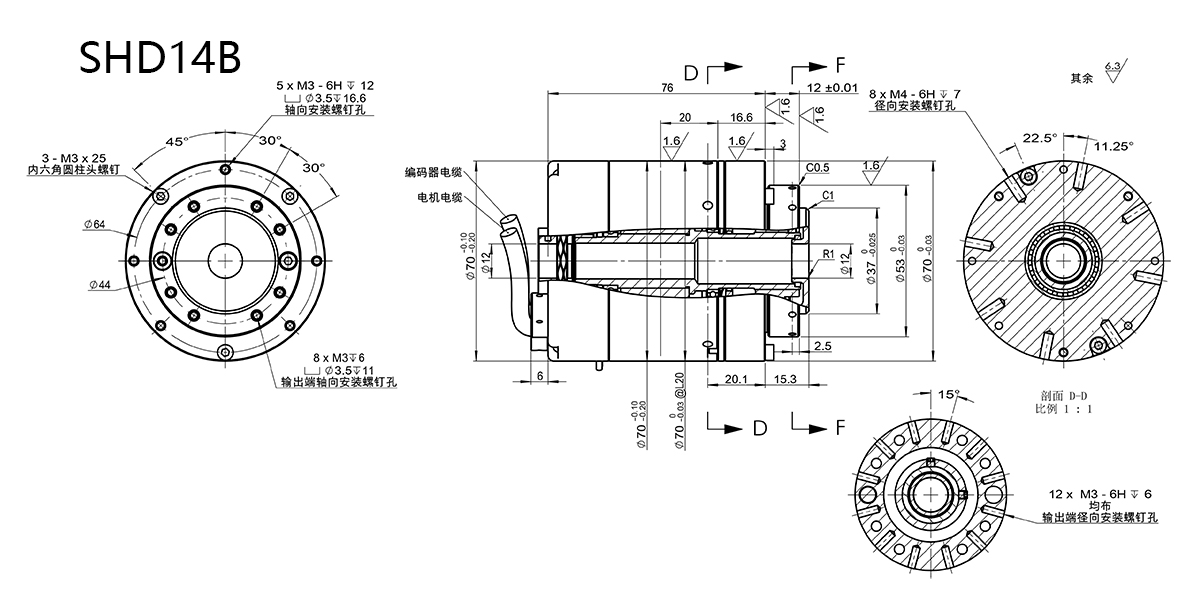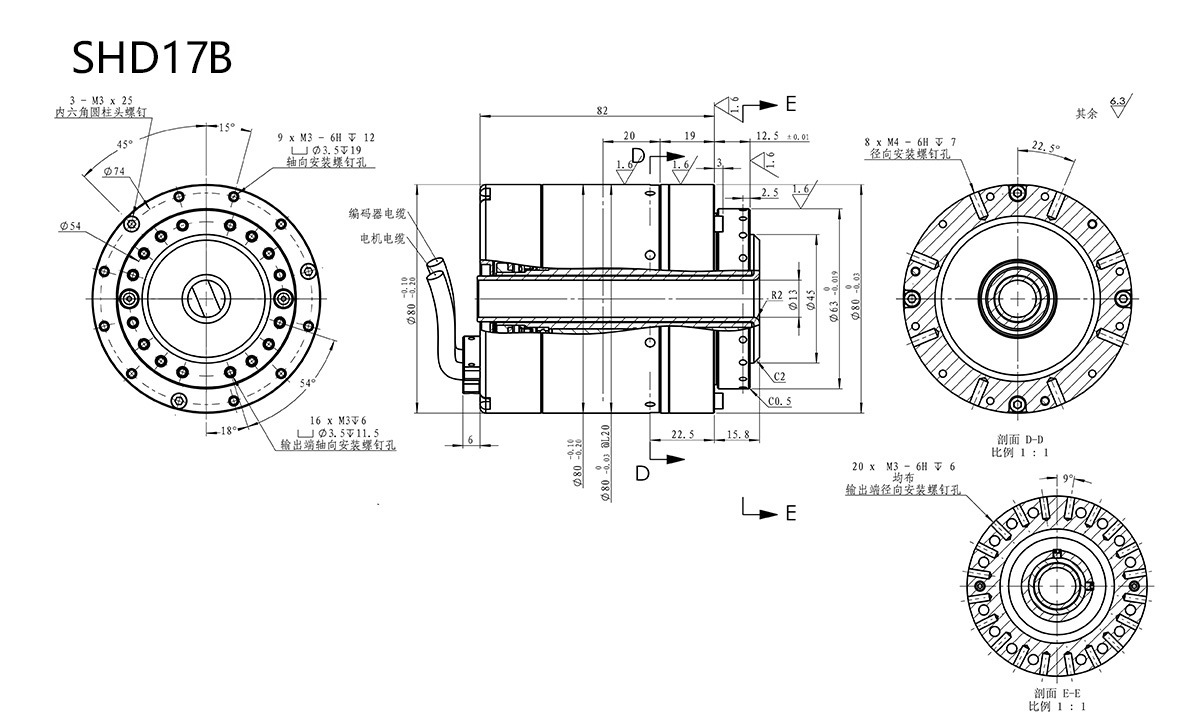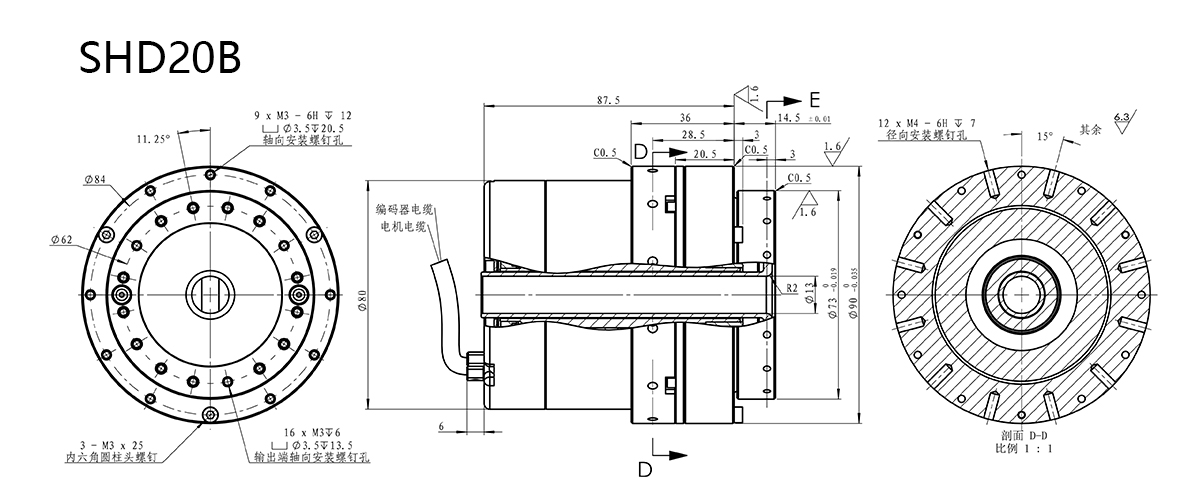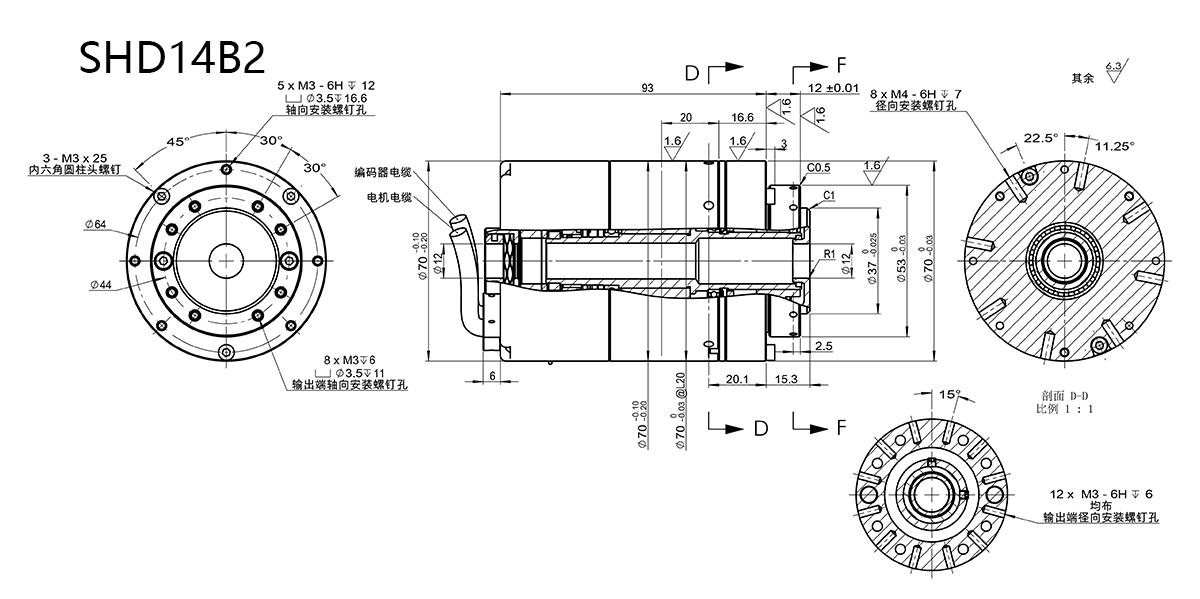 Copyright © 2021 Techsoft robots(Shenzhen) Co., Ltd. .All Rights Reserved.
粤ICP备09089119号-6
WeChat
TOP

Online

Business 150-1299-6154 Sales 189-2524-7630 Technology 189-2524-7616

Wechat

Pre-sale

+86 150-1299-6154

Oversea-sales

+86 189-2526-1894

After-sale

+86 189-2524-7616