RJU series joint modules-for business and life service applications
A brand new robotic joints, different from RJS , RJSII , SHD and other traditional shapes, but a joint that can give robots more design space and application field, customers can locate according to their product direction.
Open and friendly, easy to operate
• Modular design, a compact new generation of joint modules, its weight, size, installation mode, appearance, and other relative RJS have been greatly optimized
• For the joint robotic produced by the customer in the later period, more design space is provided, the diversity of installation methods is provided, and more application space is provided for the robot
• According to the orientation of the company's robot, it can locate various protection levels more freely, which also gives the robot more possibilities
Focus on R&D and production of robotic joint
with excellent performance
More independent design space to help you quickly develop and manufacture your articulated robot, enter the market and seize the opportunity
Repeated positioning is more accurate

Double encoder feedback for precise position control

Modular design

Large hollow design, more compact structure, more compact

High protection level, more secure

Comprehensive safety protection design of the drive

Low power design, more energy efficient

RJU14 normally works at a minimum of only 20W, and the power consumption of a 3KG co-robot is about 150W under normal conditions.

Optional communication

Support EtherCAT, CANopen communication optional,

Support OEM customized services

Provide customers with efficient OEM customized services, tailored to customer needs
Product advantages
Customers can assemble and design their robots according to actual needs, shorten the development cycle of robots,
and quickly bring a return on investment. Products are widely used in the market and look forward to your arrival
Modular design

RJU joint modules integrate harmonic reducer, motor, brake, dual encoder, driver in a small, compact structure to meet the needs of more application markets

Wide range of applications

There are a wide range of applications, and customers can freely design product appearances according to actual needs, such as (automation equipment, collaborative robots, medical robots, AGV cars, etc.)

Innovative design

The RJU series of jointless modules without shells are aimed at the needs of customers, allowing customers to better design joint shells and produce their joint robots through their product concepts and actual needs.

Safe and smooth

The RJU series joint module can feedback various information such as the position, speed, current, and torque of each joint to the control system in real-time.

Cost-effective

We always provide you with high-quality products and services, which gives us an excellent reputation in the industry, and you can get high-quality products at affordable prices.

Long lasting

The RJU joint module has undergone a 7 * 24 hours aging test before leaving the factory, which guarantees the reliability of each joint module and the service life is up to 30,000 hours.

Outstanding performance

RJU joint modules are strong and powerful at low speed, quiet and stable at high speed, and can output smoothly under extreme load conditions. The maximum continuous output torque is 10 ~ 450N · m.
Quickly build a robot
Helps you save time and labor costs in robot design, parts selection, performance testing, and more
Harmonic reducer

Small size and light weight
Smooth torque output
Low noise and low vibration
Stable and efficient performance

Motor

Low torque ripple, low inertia
High torque density output
High precision, high rigidity, and better response speed

Driver

Support EtherCAT / CANopen optional Ultra-thin intelligent integration, smooth operation, and fast response Excellent performance and precise control

Dual encoder

Ultra-thin design and compact structure
High resolution and high precision
Absolute multiturn
RJU Joint model description
RJUZ
-20
-100
-20
B1
-SA17
-D1
E
-T
-A1
Series
Model
Reduction ratio
Motor stator
length
Brake
Absolute
Encoder
Drive
Model
Default
allocation
Torque
sensor
Version
number
RJU
(With L-shaped housing)
/
RJUZ
(Without case)
/
RJUC
(Straight type housing)
14
100-1:101
20
B1: Plug-in brake
S:Single turn
A:Absolute
17:Encoder
D1:RDM
E: EtherCat
T:Torque
sensor
A1:Design version number
17
20
120-1:121
25
C:CANopen
32
160-1:161
40
Example:
Joint model:RJUZ-20-100-20B1-SA17-D1E-T-A1
Basic parameters
Parameters
Drawings
Download
Basic performance
Parameter
Units
RJU14/Z

RJU(Z)17

RJU(Z)20

RJU(Z)25

Average torque
Nm
34
66
102
194
Rated Load Torque
Nm
9.6
30
50
84
Peak torque
Nm
66
134
182
351
Rated speed
rpm
29.7
29.7
29.7
19.8
Maximum speed
rpm
47.5
35
35
37.6
Electrical performance
Rated power
W
118
146
210
400
Rated voltage
VDC
48
48
48
48
Rated current
A
4.7
5.7
7
11.5
Peak current
A
11.75
14.25
17.5
28.75
Communication
--
EtherCAT/CANopen
Mechanical properties
Diameter
kg
1.14
1.75
1.96
3.2
Length
mm
70
80
92
110
Weight
mm
125
134
136
150
Brake
--
Plug-in (UR type) )
Incremental Encoder
--
17bit Singleturn absolute encoder
Absolute Encoder
P/R
20000
20000
20000
20000
Gear ratio
--
101
101
101
101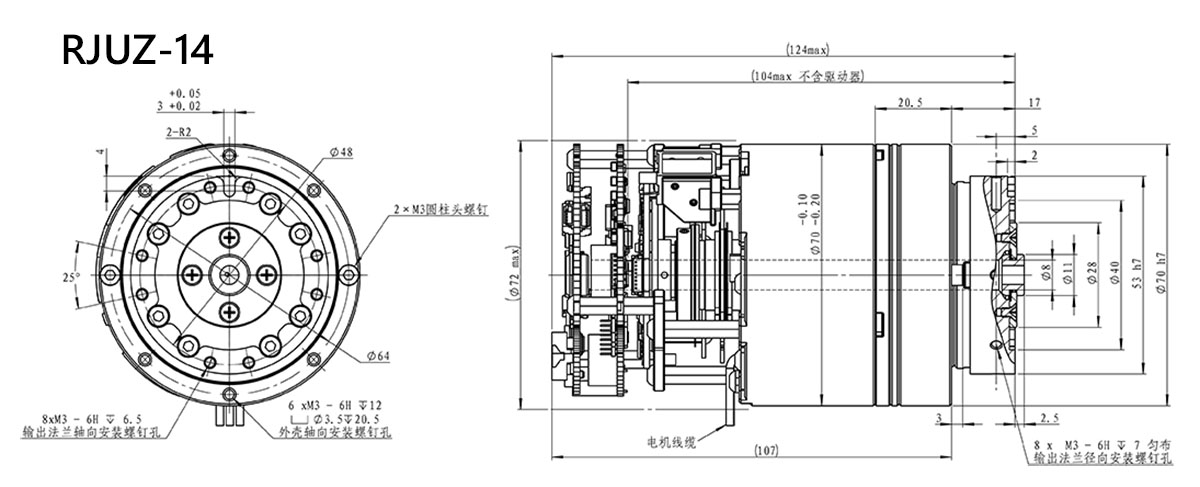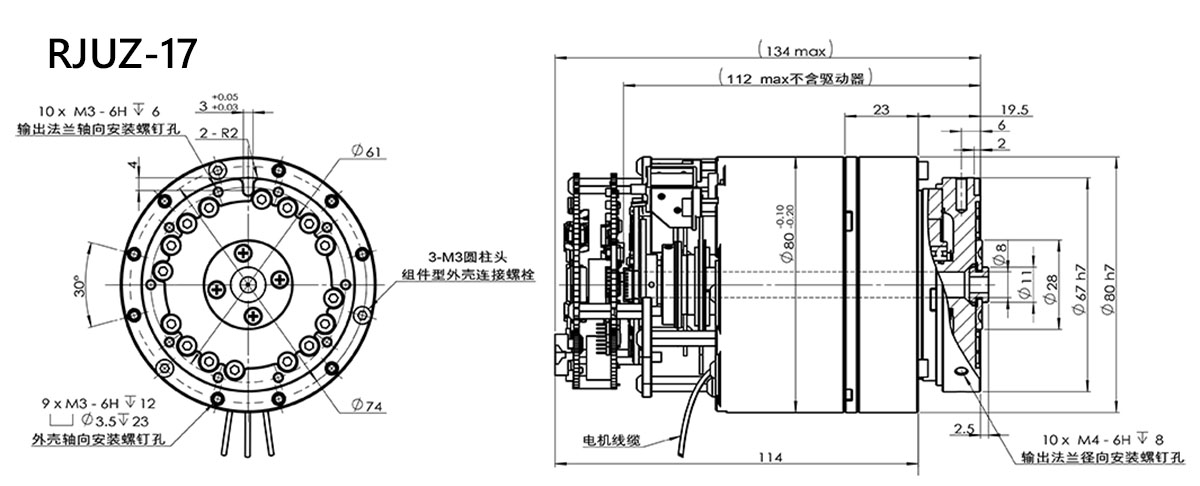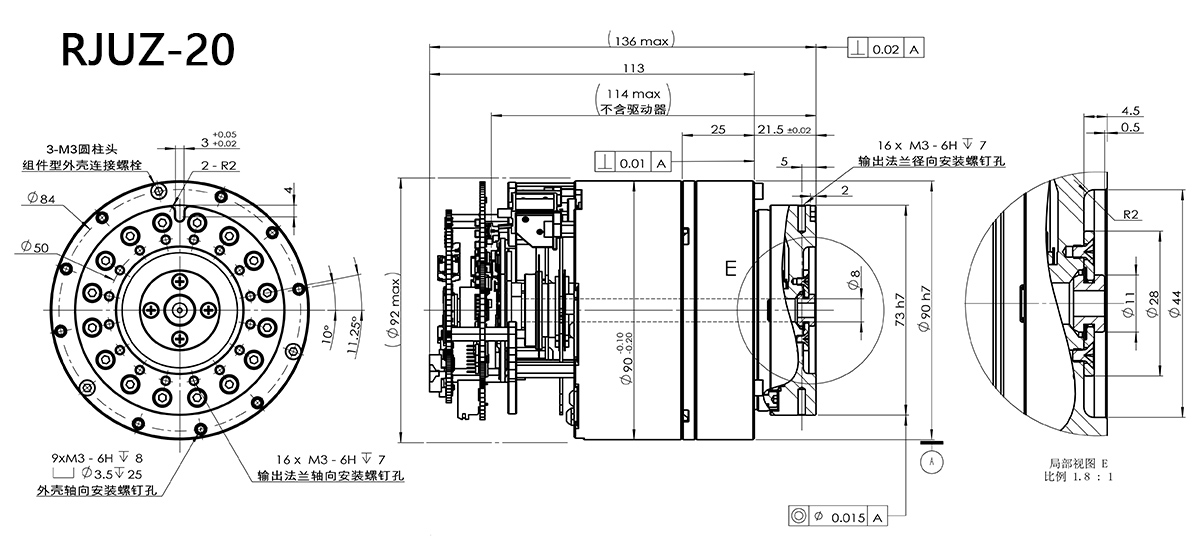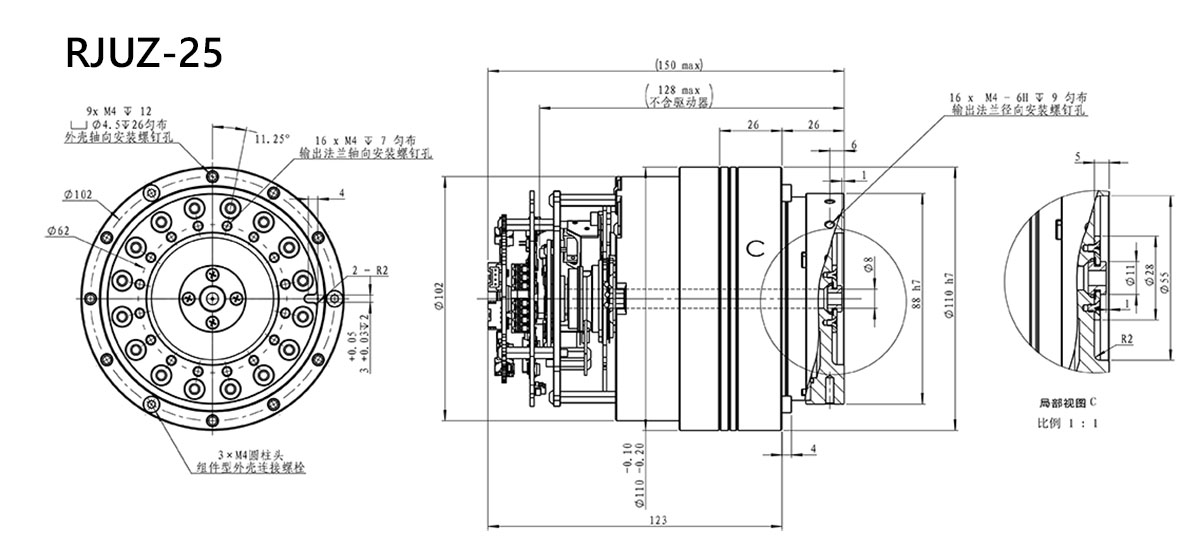 Drawings name
2D Drawings
3D Drawings
Date
Copyright © 2021 Techsoft robots(Shenzhen) Co., Ltd. .All Rights Reserved.
粤ICP备09089119号-6
WeChat
TOP

Online

Business 150-1299-6154 Sales 189-2524-7630 Technology 189-2524-7616

Wechat

Pre-sale

+86 150-1299-6154

Oversea-sales

+86 189-2526-1894

After-sale

+86 189-2524-7616