At present, the Yangtze River Delta, Pearl River Delta, Beijing, Tianjin and Hebei, Northeast and other regions have formed a certain scale of robot industry clusters, and found their respective advantages. For example, the Yangtze River Delta region takes Jiangsu, Shanghai and Zhejiang as its core areas, and its advantages lie in its strong foundation of electronic information technology industry, while the Pearl River Delta region has the advantages of control system. The development situation of each region is different, but the division of labor is clear and mutually reinforcing, which helps independent brands to move towards the high-end areas.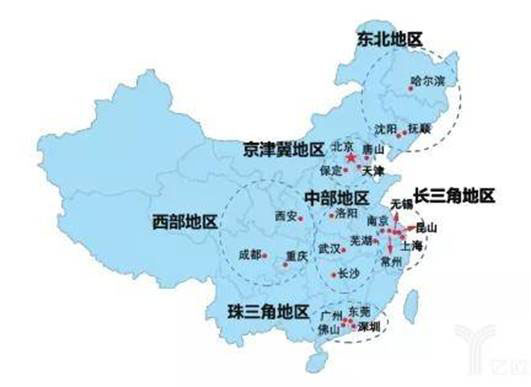 Distribution Map of Domestic Robot Industry Cluster
Multidimensional Development Breaks through Foreign Monopoly
1. Competition is the way to win in cooperation
Overemphasizing the competitive relationship with foreign-funded enterprises. Refusing all forms of cooperation will lead to the embarrassing situation of "building cars behind closed doors", face up to the gap with foreign advanced enterprises, and constantly enhance the technical strength of state-owned brands through strengthening cooperation.
2. Take a differentiated development path
The short-term breakthrough of domestic industrial robots enterprises lies in seeking a differentiated competitive route. The ontology field mainly aims at the appropriate transformation of general-purpose robots'software and hardware in specific fields. Most successful multi-joint robots in China are used to solve a certain industry problem, and they drive ontology sales based on their own familiar integration domain.
3. Grasp the emerging areas such as cooperative robots to achieve overtaking in bends
In 2018, the sales volume of cooperative robots in China increased by 49.9% over the same period of last year, and the market scale reached 930 million yuan, up 47.62% over the same period of last year. From 2014 to 2018, the annual composite growth rates of cooperative robots sales and market scale were 80.15% and 64.83%, respectively.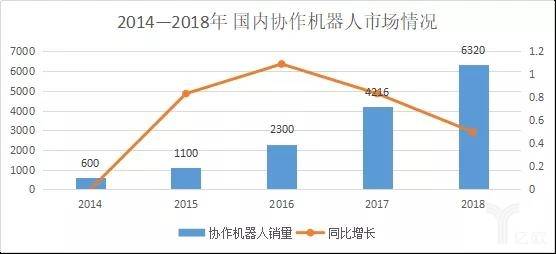 Distribution of Competitive Echelons in Chinese Cooperative Robot Enterprises from 2016 to 2018
In 2017, Youyao still ranked first in the domestic sales of cooperative robots, followed by Wangbo, ABB, Dazu Robot and Rethin, respectively, and new enterprises are Dazu Robot.
In 2018, foreign enterprises such as Youyao, ABB, Mitsubishi and Staubert launched new technologies and products one after another. At the same time, domestic innovative companies such as Tyco Intelligence, Alite, Macho, Vietnam, Loushi, Dazu, etc. also actively explore market channels, innovate marketing models, and promote the growth of their own strength.
The strong rebound of domestic robots in 2018 has injected a "strong needle" into the Chinese robotics industry, accelerating the layout of high-end areas, further getting rid of the control of core components by foreign enterprises, and further exploring new areas such as cooperative robots, are the tasks of current domestic brands.