The World Robot Congress 2019 was held in Beijing Yichuang International Convention and Exhibition Center from August 20 to 25.
The World Robot Congress Forum is known as the "Davos" of the robotics industry. It has received strong support from 22 international robotics organizations, including the IEEE Robot and Automation Society (IERAS), the World Federation of Engineering Organizations (WFEO), and the International Robot Research Foundation (IFRR). The three-day forum brought together more than 300 top experts and business leaders from China, Russia, the United States, Germany, Japan, Italy, Canada, South Korea, Switzerland and Israel. They will conduct keynote reports and peak dialogues around the six stages of "International Cooperation and Opportunity", "Basic Technology and Innovation", "Frontier Trends and Explorations", "Artificial Intelligence and Integration", "Emerging Applications and Practices", "Market Prospects and Investment".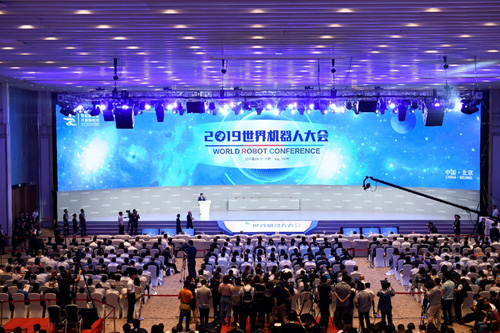 Source: Sina Technologies

The World Robot Expo is known as the Hanover Exhibition of Robot Industry. This year's exhibition area is 52000 square meters. It consists of four exhibition areas: industrial robots, service robots, special robots and logistics robots. ABB, Xinsong, Harbin Institute of Technology Robot Group and more than 180 well-known enterprises and research institutions at home and abroad involve 21. More than 700 latest technological achievements, application products and solutions for various industries have been presented, including the cloud-based intelligent service robot XR-1 of Dalu Science and Technology, the 4th generation 7-DOF lightweight robot of German Aerospace Center, the U06 robot of Konli Youlan Youyou, the Walker Robot of Youbi Choice and the Da Vinci Surgical Robot. And so on.
World Robot Competition is known as the "Olympic Games" in robotics. This year, BCI Brain-Controlled Robot Competition, Blended Robot Challenge Competition, Robot Industry Design Competition and Youth Robot Design Competition are held. The World Robot Competition 2019 has already held many trials all over the world, and the total number of participants has exceeded 40,000 in the whole year. More than 1000 teams from more than 10 countries and regions around the world, including China, Russia, Japan, Korea, the United States, Singapore, Mexico and the Philippines, participated in the championship.
Five years since the World Robot Congress was held, it has conformed to the inherent requirements of scientific and technological innovation and development, gathered global wisdom, promoted technological and industrial progress, and has become a multi-subject, all-round, wide and deep cooperation platform. In the future, the conference will continue to serve the building of a global robotic ecosystem, the promotion of high-quality manufacturing development, the construction of a modern economic system, and the building of a community of human destiny, making positive contributions to the better future of the world economy and the better future of mankind.