SHD Series Actuators
Strong output of lightweight design: Professional hollow ultra-flat design, realizing strong output of high power density in lightweight volume
External Drive Renewed: Intelligent Actuator adopts External Self-developed Driver, which can play motor performance more efficiently and is a better choice for intelligent flexible actuator.
Absolute encoder: high precision absolute encoder, precise control of motion trajectory, multi-loop absolute encoder resolution standard 16 single-loop and 16 multi-loop
Intelligent actuator SHD is mainly divided into: SHD-14, SHD-17 and more models, please look forward to it.
Advantages of SHD Actuator
Small size

The reducer is designed with hollow super flat structure, compact structure, smaller machine and lighter weight of actuator < 1.5kg.

Optional brake

Actuator customizes the installation of brake according to the actual needs, so that the robot development is more free.

Absolute Encoder

Ensuring more precise positioning and better stability of trajectory for robots

Low cost

Reducing the Research and Development Cost and Personnel Investment of Actuators in Robot Development

Wide range of applications

Mainly for scientific research and teaching, medical instrument field
SHD series actuators without lock brakes have been delivered to the prototype for use. Welcome new and old customers to visit us for consultation and inspection!
Specification parameters
Design drawings
Relevant Document Download
Basic performance
Parameter
Units
SHD14A
SHD17A
SHD14B
(Hollow)
SHD17B
(Hollow)
SHD20-B
SHD14-B2
Allowable torque
Nm
28
54
28
54
82
28
Average torque
Nm
7.8
24
7.8
24
40
7.8
Peak torque
Nm
54
110
54
110
147
54
Rated speed
rpm
29.7
19.8
29.7
19.8
29
29.7
Maximum speed
rpm
42.5
35
42.5
35
35
42.5
positioning accuracy
Degree
0.001
0.001
0.001
0.001
0.001
0.001
Electrical performance
Rated current
A
4.2
5.7
4.2
5.7
6
4.2
Peak Current
A
10.5
14.25
10.5
14.25
15
10.5
Rated voltage
V
48
48
48
48
48
48
Load power
W
118
148
118
148
200
118
Communication
--
Ethercat/Canopen
Mechanical properties
Diameter
mm
70
80
70
80
90
70
Height
mm
75
82
76
82
88
93
Weight
kg
1.07
1.458
1.26
1.458
2.2
1.5
Gear ratio
--
101
101
101
101
101
101
抱闸
--
nothing
yes
Absolute Encoder
Bit
16 bit Singleturn /16 bitMultiturn absolute encoder
16 bit Singleturn /16 bitMultiturn absolute encoder (Optional 20000P/R Incremental Encoder)
Temperature/Humidity
Ambient temperature
--
0 - 50℃
Temperature
--
90%relative humidity(non-condensing)
Environmental requirements
IP classification
--
IP54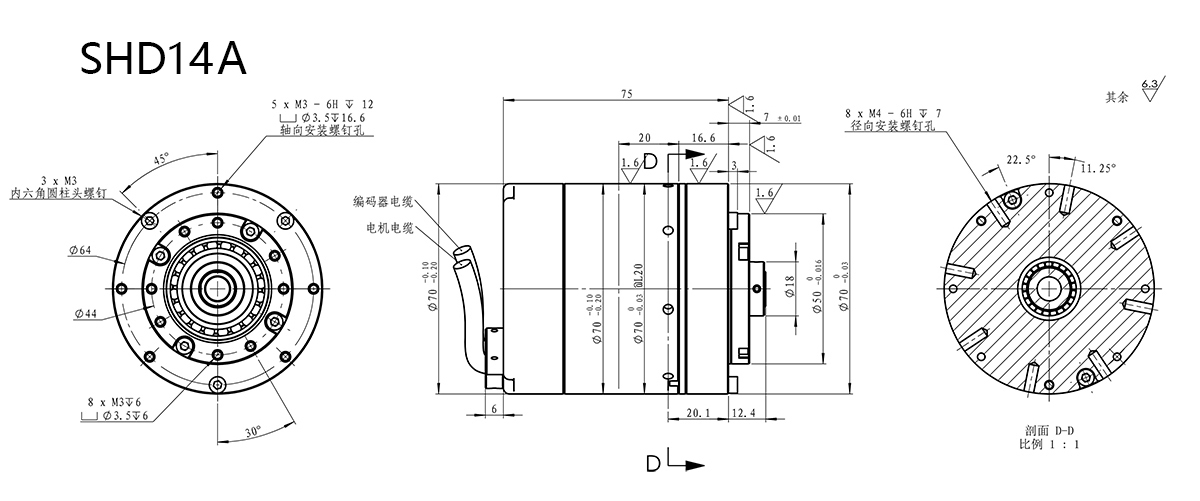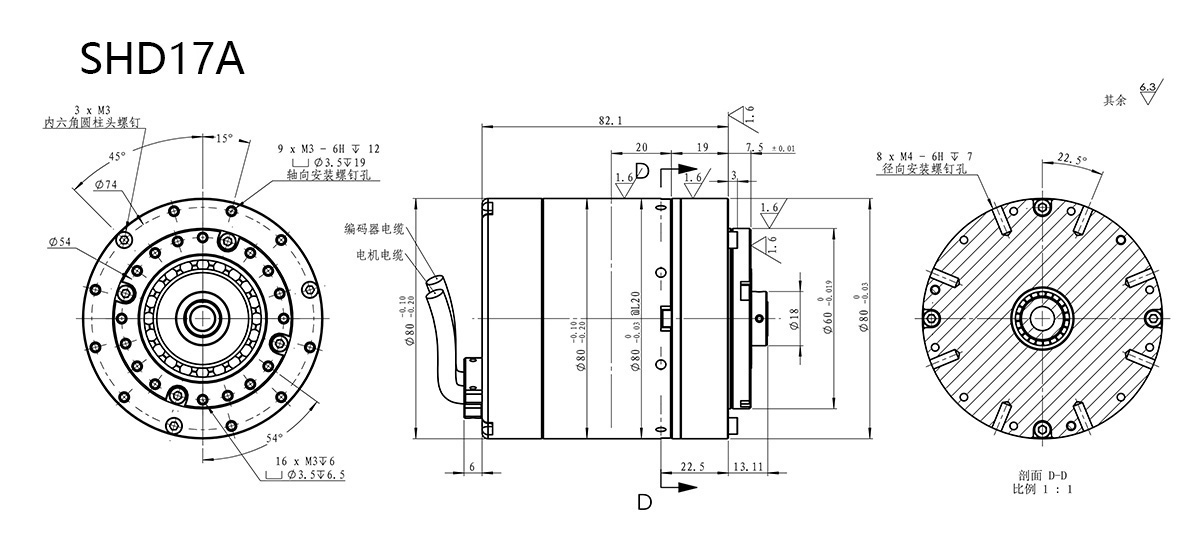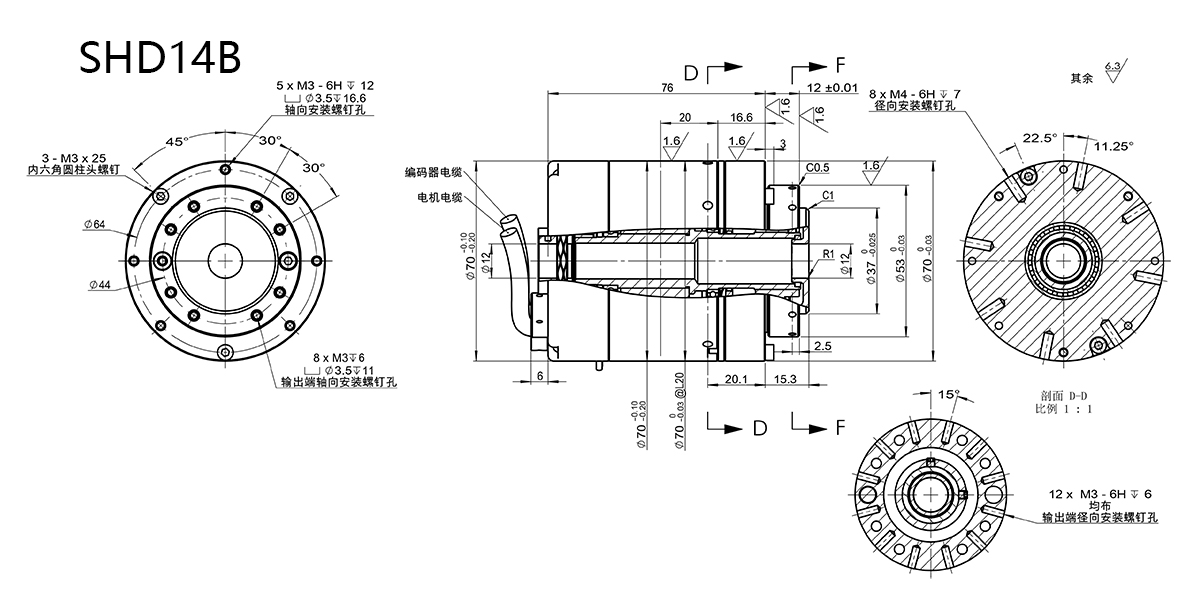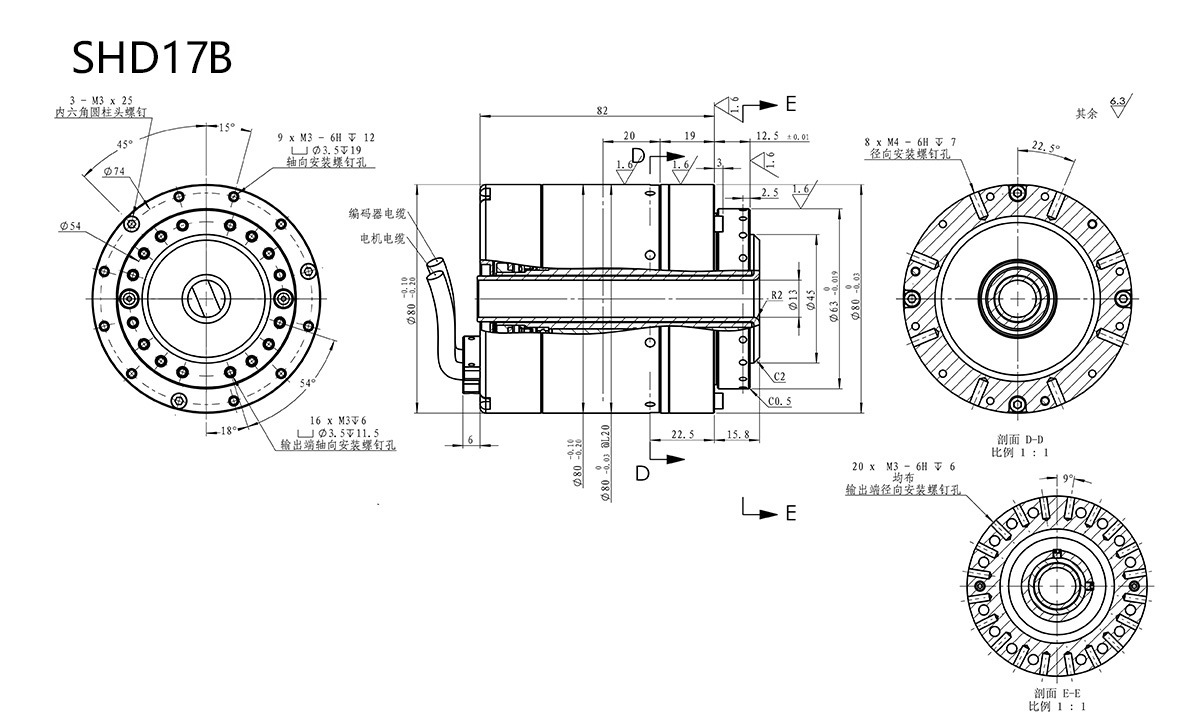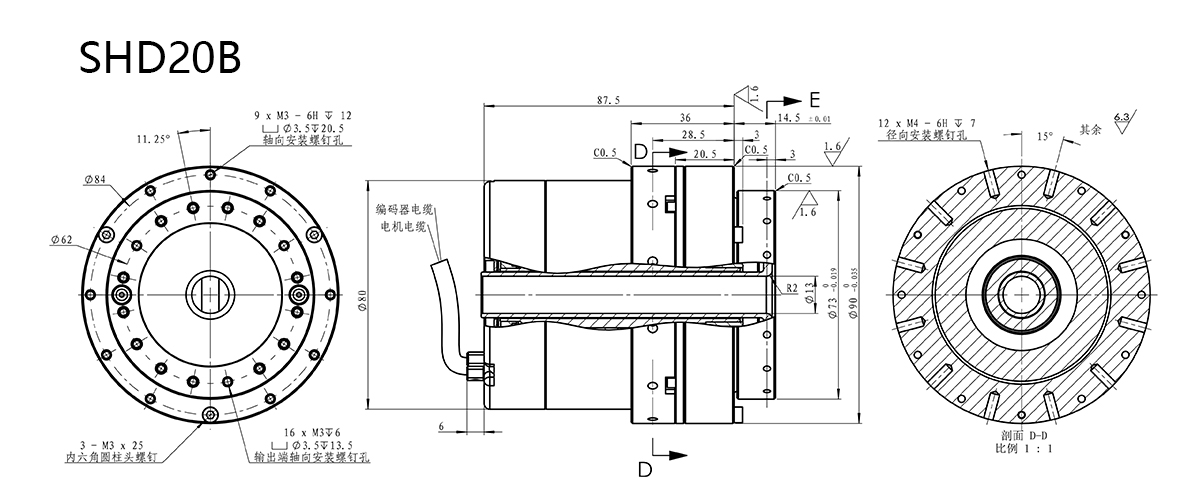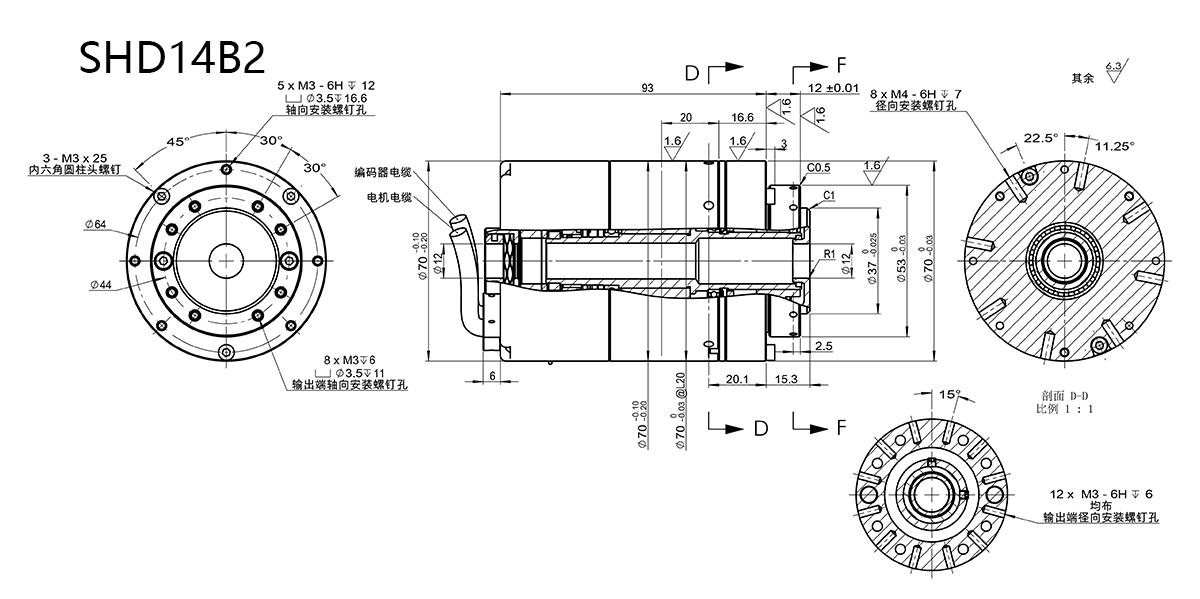 2D drawings
3D drawings
Recommendation of related products