Complex Joint Parts Design
A 3-5-year R&D cycle
Considerable joint size and performance
Invest millions of dollars in R&D
Supply Chain Management and Cost Control
Compatibility of Driver with Machinery and Controller
Techsoft Robots(Shenzhen) provides you with a high cost-effective integrated robot joint module-RJU series
Help you develop your own robots quickly
RJU Series Joint Modules
RJU series is a modular design, compact new generation of joint modules, its weight, size, installation, appearance and other relative RJS series has been greatly optimized. The RJU Series offers two forms, one with no shell (RJU_Z) and the other with shell (RJU).
New products will be on the market soon, please look forward to it! Welcome to Techsoft Robots!
Top 10 Performance of RJU Series Modules
Based on more than 10 years'focus on the production, development and application of high performance servo drivers, RJS series joint modules ensure the stable operation of cooperative robots with high positioning accuracy and high reliability.
Non-encapsulated case

To satisfy the customer's demand for self-design of the shape of the manipulator

skillful

Full closed-loop control is realized by using double encoders, and the repetitive positioning accuracy of output terminal can reach 0.001 degree.

More lightweight

The reducer is designed with hollow super flat structure, compact structure, smaller size, lighter joint weight and less than 1.2Kg weight.

Super moments

The continuous output torque is 10~450N.m.

Wide range of applications

Automated assembly production, automated logistics sorting, no retail, rehabilitation medical and surgical assistance, power inspection, etc.

More secure

Over-current, over-temperature, over-voltage, under-voltage, over-position, short circuit, I2t, control error and other comprehensive safety protection design

More convenient

Routine 48 VDC power supply, 24-60 VDC power supply is optional

low power consumption

RJU14 works normally at a minimum of 20W, and the power consumption of 3KG cooperative robot is about 150 W under normal working conditions.

More friendly

EtherCAT, CANopen Communications Optional, Supports Most Mainstream Robot Controllers

Customized

Provide OEM customized service for customers
Specification parameters
Design drawings
Relevant Document Download
Basic performance
Parameter
Units
RJU14/Z
RJU17/Z
RJU20/Z
RJU25/Z
Average torque
Nm
34
66
102
194
Rated Load Torque
Nm
9.6
30
50
84
Peak torque
Nm
66
134
182
351
Rated speed
rpm
29.7
29.7
29.7
19.8
Maximum speed
rpm
47.5
35
35
37.6
Electrical performance
Rated power
W
118
146
210
400
Rated voltage
VDC
48
48
48
48
Rated current
A
4.2
5.7
7
11.5
Peak current
A
10.5
14.25
17.5
28.75
Communication
--
EtherCAT/CANopen
Mechanical properties
Diameter
kg
1.14
1.75
1.96
3.2
Length
mm
70
80
92
110
Weight
mm
125
134
136
150
Brake
--
Plug-in (UR type) )
Incremental Encoder
--
17bit Singleturn absolute encoder
Absolute Encoder
P/R
20000
20000
20000
20000
Gear ratio
--
101
101
101
101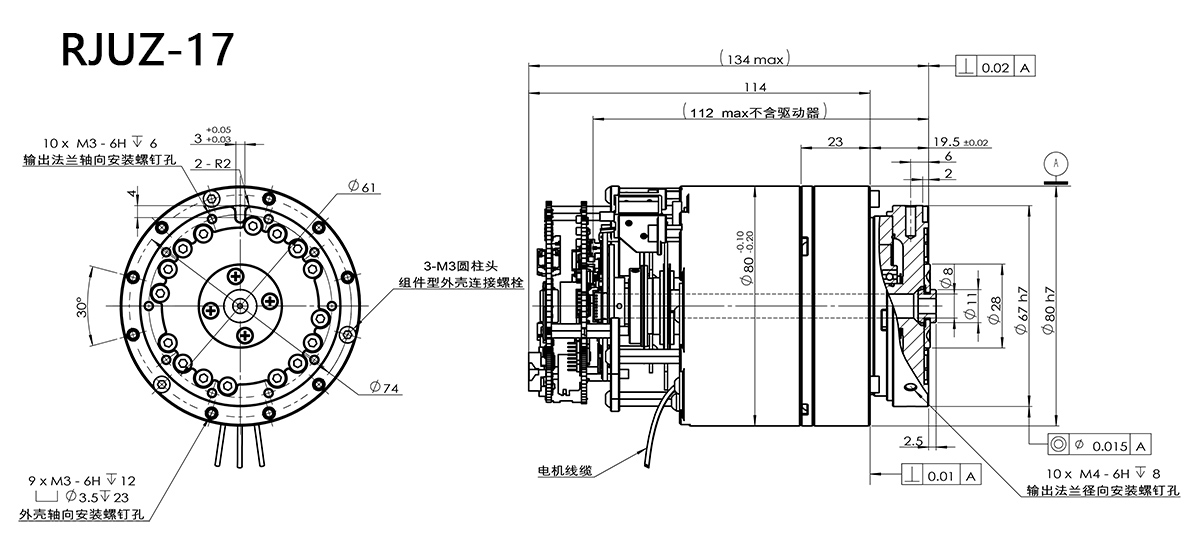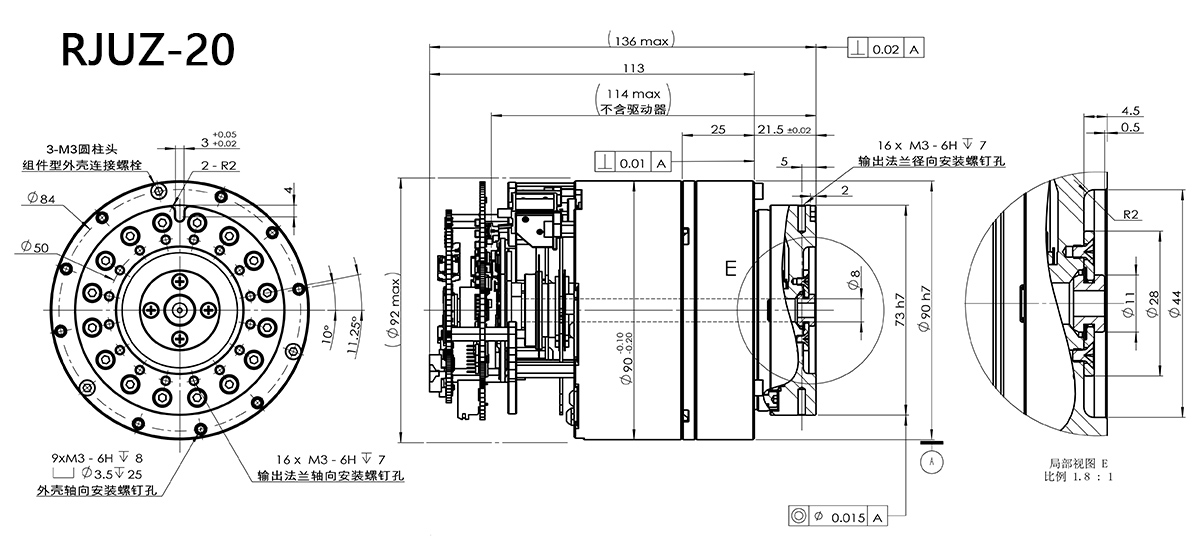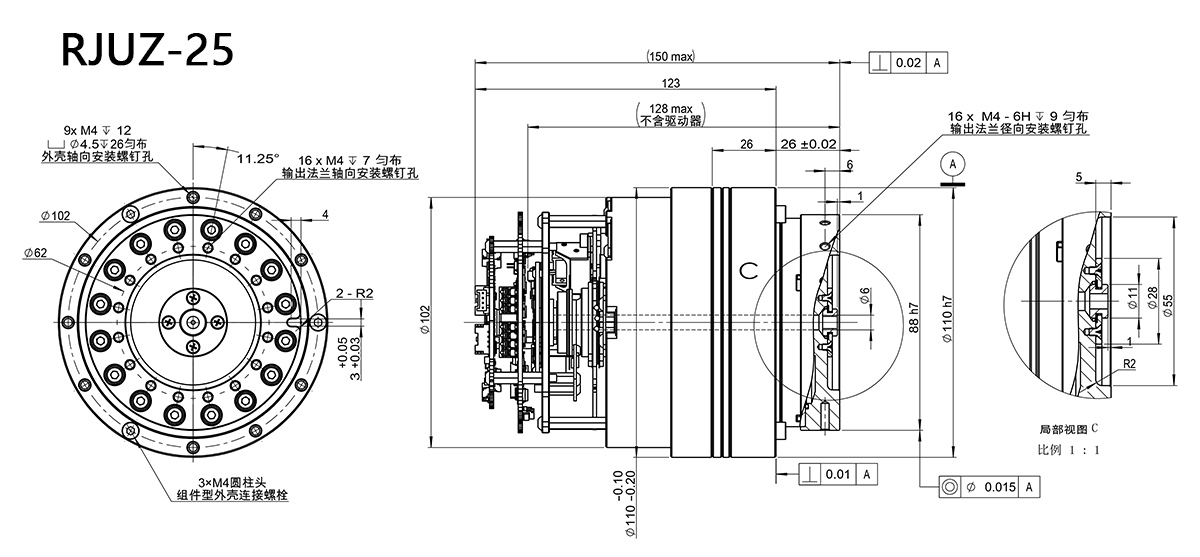 2D drawings
3D drawings
Recommendation of related products