Robots can't work in high humidity
Can't work in high temperature environment
My robot can't be waterproof. What should I do?
Can my robot prevent oil mist?
Robot's poor dust-proof ability can not run smoothly
Not suitable for outdoor working environment
Techsoft Robots(Shenzhen) provides you with a high cost-effective integrated robot joint module-RJS-II series joint module
RJS-II Series Joint Modules - Solve for you the adaptability and stability of robots in more complex environments
RJS-II joint module
For more than 10 years, we have focused on the production, development and application of high performance servo drivers. The joint module ensures the stable operation of cooperative robots with high positioning accuracy and high reliability.
Traditional brake holder

The braking performance of the robot in the working environment is improved.

Absolute Encoder

Ensuring more precise positioning and better stability of trajectory for robots

Small and light

The reducer is designed with hollow super flat structure, compact structure, smaller machine and lighter joint weight.

Conventional power supply

Routine 48 VDC power supply, 24-60 VDC power supply is optional

Optional communication

EtherCAT, CANopen Communications Optional, Supports Most Mainstream Robot Controllers
New products will be on the market soon, please look forward to it! Welcome to Techsoft Robots(Shenzhen)!
Specification parameters
Design drawings
Relevant Document Download
Basic performance
Parameter
Units

RJSII-17

RJS

II-

25

RJS

II-

32

Peak torque
Nm
66
207
459
Average torque
Nm
49
133
267
Rated Load Torque
Nm
30
84
169
Peak torque
Nm
134
376
848
Rated speed
rpm
30
25
12.4
Maximum speed
rpm
35
30
18.6
positioning accuracy
--
0.001°
Electrical performance
Rated power
W
200
400
750
Rated voltage
VDC
48
48
48
Rated current
A
6
11.5
20
Peak current
A
15
28.75
50
Communication
--
EtherCAT/CANopen
Mechanical properties
Diameter
mm
86
116
152
Length
mm
138
149
181
Weight
kg
2.5
5
7.8
Gear ratio
--
101
121
161
Incremental Encoder
P/R
UVW Hall+20000P/R Incremental Encoder
Absolute Encoder
Bit
17bit Singleturn absolute encoder
Brake
--
24/12VDC Friction Brake
Environmental requirements

IP classification

--

IP64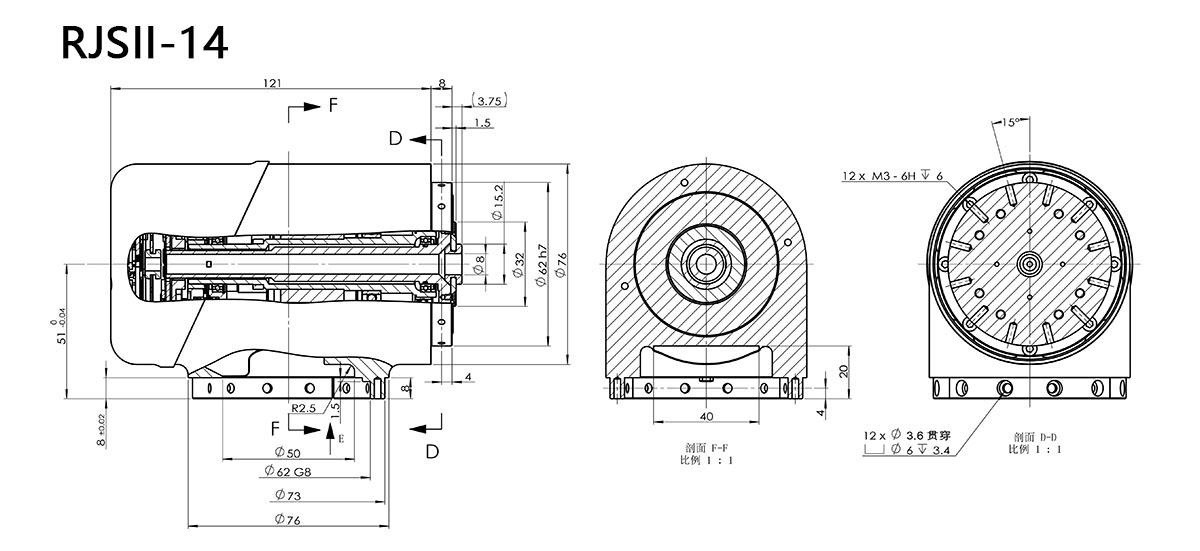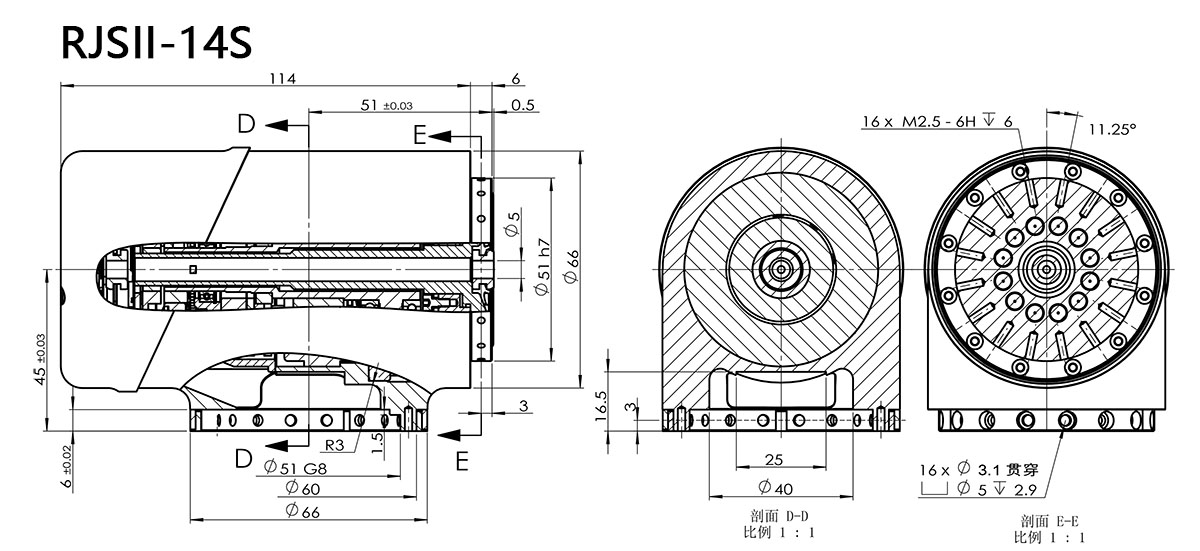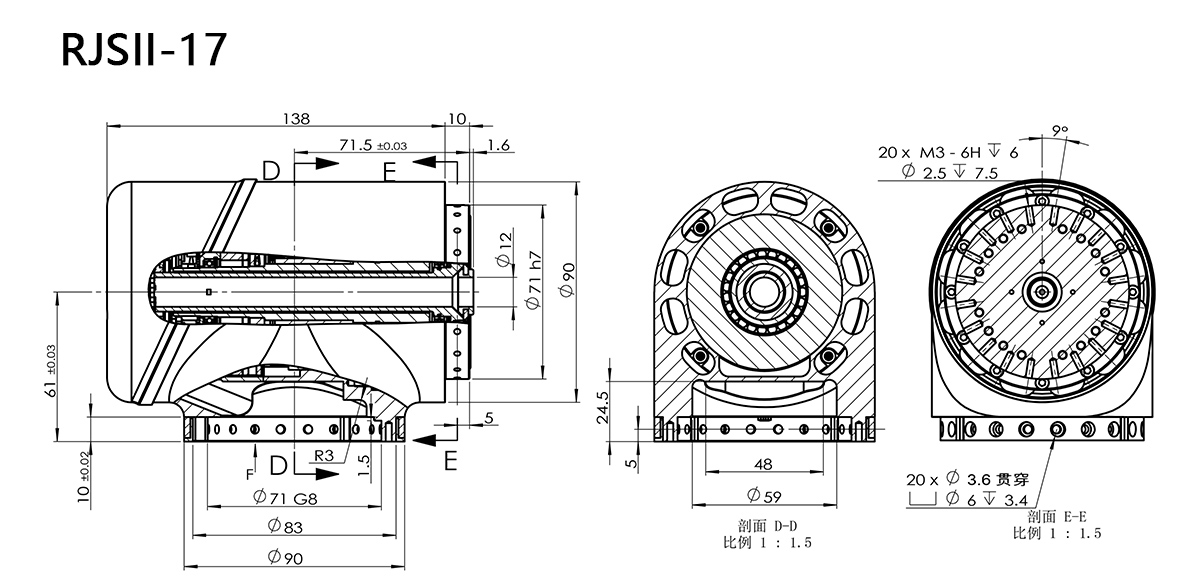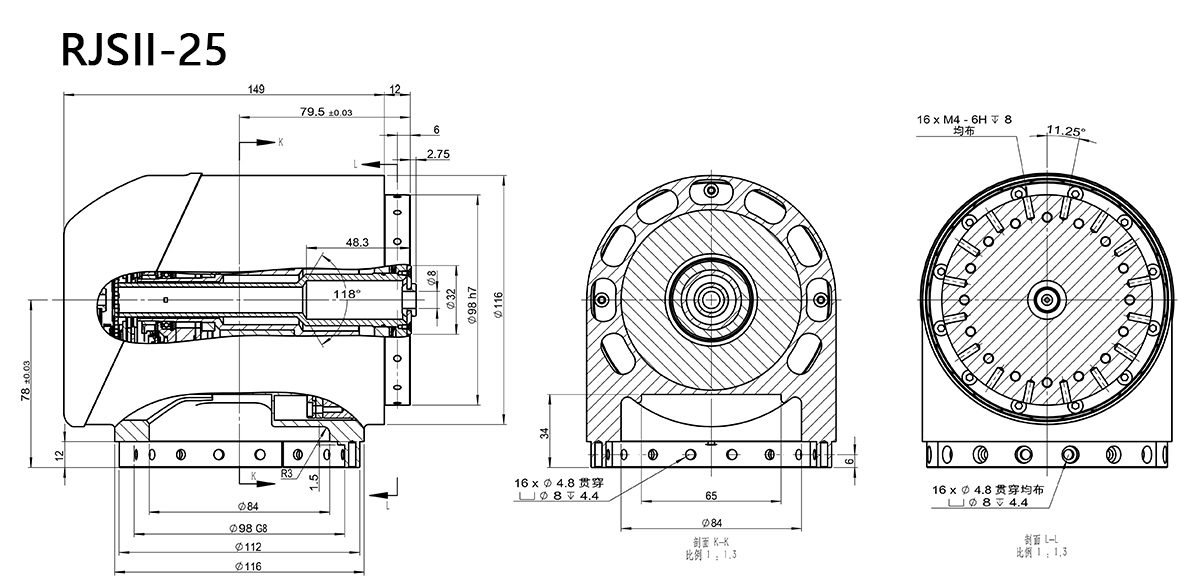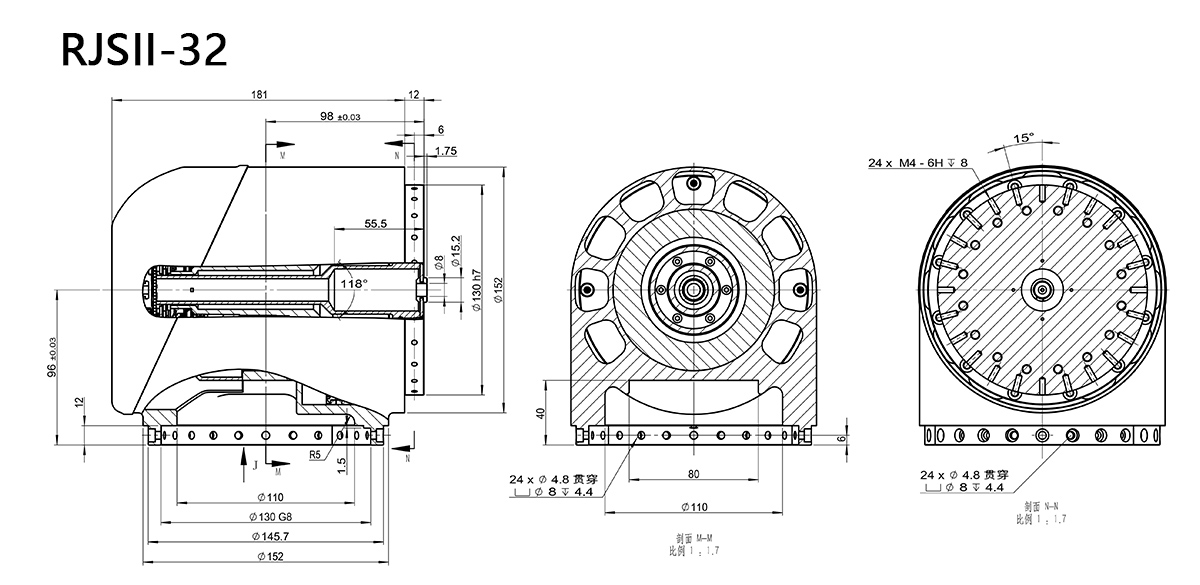 2D drawings
3D drawings
Recommendation of related products