Complex Joint Parts Design
A 3-5-year R&D cycle
Considerable joint size and performance
Invest millions of dollars in R&D
Supply Chain Management and Cost Control
Compatibility of Driver with Machinery and Controller
Techsoft Robots(Shenzhen) provides you with customized service of high cost-effective integrated robot joint module
Help you develop your own robots quickly
Customized Joint Module
Customized Joint Module has come on line in 2018, which solves the customized robot service for many robotics companies.
Customized Joint Module Service, has been online! Welcome to Techsoft Robots(Shenzhen)!
Customized Joint Module
Based on more than 10 years'dedication to the production, development and application of high performance servo drivers, customized joint modules ensure the stable operation of cooperative robots with high positioning accuracy and high reliability.
Exclusive Shell Design

To meet the customer's design requirements for the shape of self-designed manipulator

Optional Absolute Encoder

Ensuring more precise positioning and better stability of trajectory for robots

Optional brake

Joints are customized to install brakes according to actual design requirements, so that robots can be developed more perfectly.

Optional communication

EtherCAT,CANopen Communication is optional to support most mainstream robotic controllers

Low cost

Reducing the cost of joint research and development and personnel input of customers in the process of robot development
Specification parameters
Design drawings
Relevant Document Download
Basic performance
Parameter
Units
RJS17
RJS40
Allowable torque
Nm
54
279
Average torque
Nm
39
450
Peak torque
Nm
86
1000
Rated speed
rpm
30
12.5
Maximum speed
rpm
35
15
positioning accuracy
Degree

0.001
0.001
Electrical performance
Rated current
A
5.8
28
Peak Current
A
14.5
56
Rated voltage
V
48
48
Load power
W
146
1000
Communication
--
Ethercat/Canopen
Ethercat/Canopen
Mechanical properties
Diameter
mm
105
237
Height
mm
156.5
221.3
Weight
kg
2.37
16
Gear ratio
--
101
160
Incremental Encoder
P/R
20000
20000
Absolute Encoder
Bit
17/19
17/19
Temperature/Humidity
Ambient temperature
--
0 - 50℃
Temperature
--
90%relative humidity(non-condensing)
Environmental requirements
IP classification
--
IP54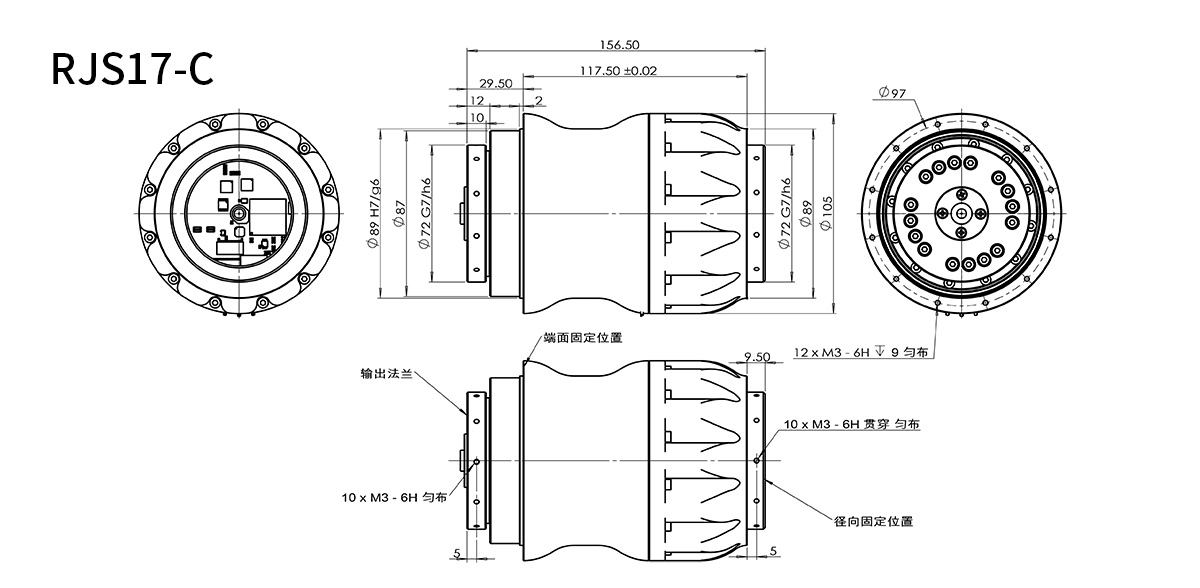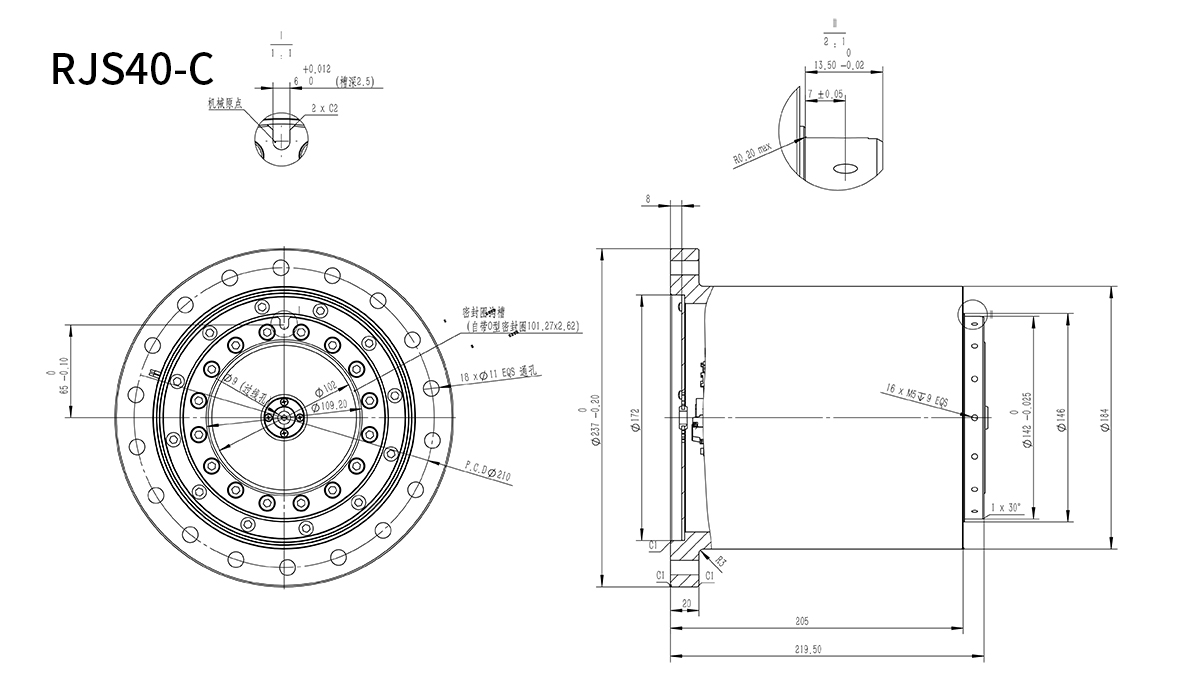 Product manual
2D drawings
Recommendation of related products